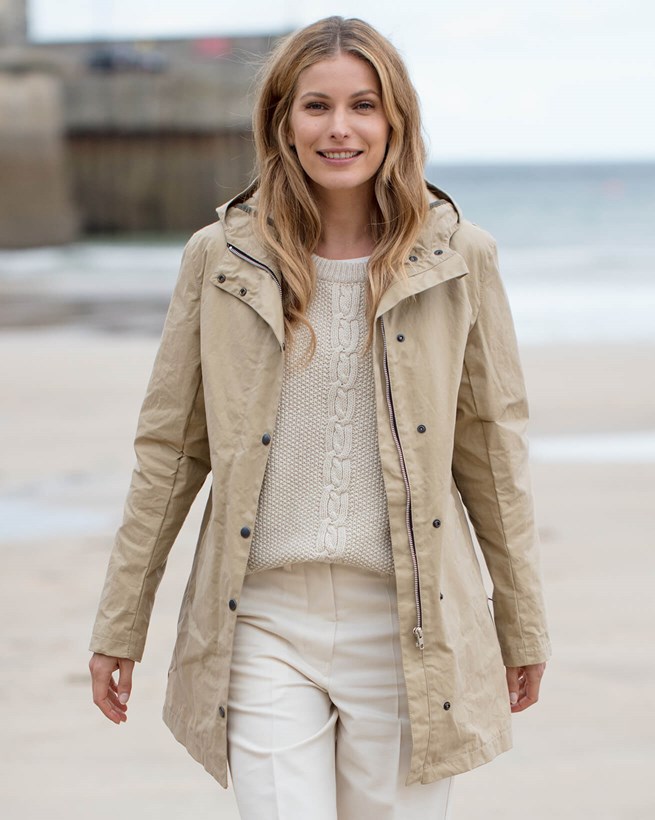 Waxed Rain Jacket
Product Code: 7506
was: £180.00
now: £144.00
save 20%
Free Returns and Exchanges
On all UK orders
Product Details
Ideal for transitioning through seasons this coat is unlined and features a generous hood, two side pockets and both a zip and popper fastening. In a casual thigh length and lightweight hybrid aero wax fabric, this jacket is ideal for year-round outdoor exploring.
Hybrid Aero Wax - With a combination of our driest wax and aero soft tumble finishing, we have created cotton with a light wax feel and softly aged appearance.
Model:
Model usually wears UK size 8
Height: 5'8"
Wearing UK size 8 here
Features:
Hand wash with a mild non-biological detergent at 30 degrees centigrade.
Rinse thoroughly 3 times in separate warm water to remove any remaining detergents.
Do not use fabric softeners as these will facilitate a hydrophilic effect and this will affect the performance of the reproofing agent
Line dry fully.
The garment can be tumbled for 5 mins or single/double dot ironed after drying to remove any creases.
Reviews
Waxed Rain Jacket
Add a review
By submitting a review you confirm that you agree to our T&Cs
Sorry, something went wrong. Please try again or contact us to report this error.
Thank you for taking the time to post your review. Your review may take some time to appear in the list of reviews, as all reviews are manually checked to prevent spam.
5
Victoria Robinson
Posted: 14 Oct 2019
I bought the black option. I am very happy with my purchase and I now wear the jacket every day with a jumper. It is comfortable, light and looks stunning. It is such a classic design, and the cut is perfect.
5
Tatiana Kosheleva
Posted: 11 Jul 2019
The jacket is simply great! I am so pleased I decided for this item especially now then we have here in Moscow a rather cold and rainy weather. But as often happen there is a fly in the ointment- a rather noticable snag on the front upper left hand part of this garment. I am disappointed. But in the hope that this unpleasantness will be solved shortly I rate the jacket with 5 stars- it deserves this. Just for the future please carefully examine the product before it goes to a customer so far- the return costs 10 pounds and this is not my fault that the product is damaged! Thank you for understanding
5
Dr Carey Chapman
Posted: 13 May 2019
Very pleased with this well-made and finished jacket. Fit is generally good and it's kept me dry in a torrential downpour. An extra point for the hood which is almost long/roomy enough to accommodate my longish neck. Another inch would have been perfect, but far better than other garments I've tried over the years! (Would also have been great to have some darting in the chest for those of us with a bit extra on top?)
5
June Parkinson
Posted: 11 Mar 2019
Love the jacket. Sleeve length perfect. THE LEFT HAND SLEEVE AT THE SHOLDERS WAS LONGER THAN THE RIGHT HAND SIDE BY HALF AN INCH! but decided to keep any way because everything else was great!
Loading reviews...