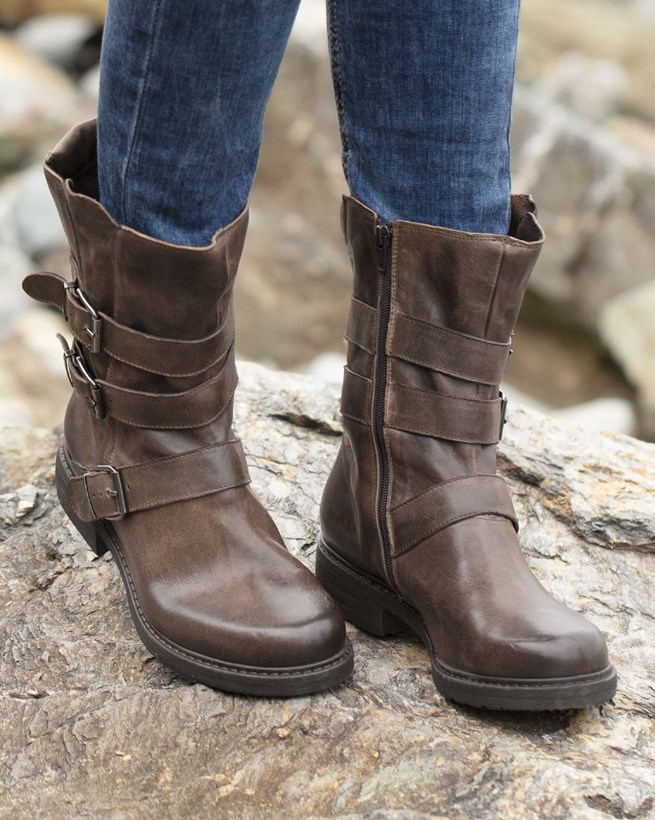 Leather Biker Boots
Product Code: 7213
£185.00
Free Returns and Exchanges
On all UK orders
Product Details
• 100% leather upper
• Triple buckled straps
• Antique effect upper
From clambering over rocks to shopping trips on the weekend, our leather biker boots will quickly become your new 'pull on and go' pair.
Crafted in rich leather with an antique-brown hue for styling versatility, these boots combine a laid-back shape through the calf with triple straps held in place by vintage-effect roller buckles.
Characterful burnishing gives this pair a lived-in look from the outset, adding an outdoorsy, adventurous vibe to any and every ensemble.
Reviews
Leather Biker Boots
Add a review
By submitting a review you confirm that you agree to our T&Cs
Sorry, something went wrong. Please try again or contact us to report this error.
Thank you for taking the time to post your review. Your review may take some time to appear in the list of reviews, as all reviews are manually checked to prevent spam.
5
Barbara Harwood
Posted: 11 Oct 2019
Great boots great style whether with a dress skirt or jeans. Well made. Very comfortable and can easily wear a thick sock with them. They are so warm too.
5
Margaret Evans
Posted: 14 Jun 2017
Just taken delivery of these. They are absolutely gorgeous. This is the first pair of biker boots that I have found which do not make me look like I am wearing my dad's wellies. Took the advice of other reviewers and sized down. Excellent advice as they are a perfect fit with still enough room for a pair of socks. It's summer now, how about a chocolate brown version for next autumn/winter?
5
Anne
Posted: 18 Apr 2017
Like other customers I risked going down a size with these and they fit perfectly. Very comfortable and I shall be wearing them often. As other people have said they look slightly edgy and rock chic!
5
Gill Hague
Posted: 14 Apr 2017
FAB Biker Boots! Very comfortable and look quite edgy. Love them!
Loading reviews...