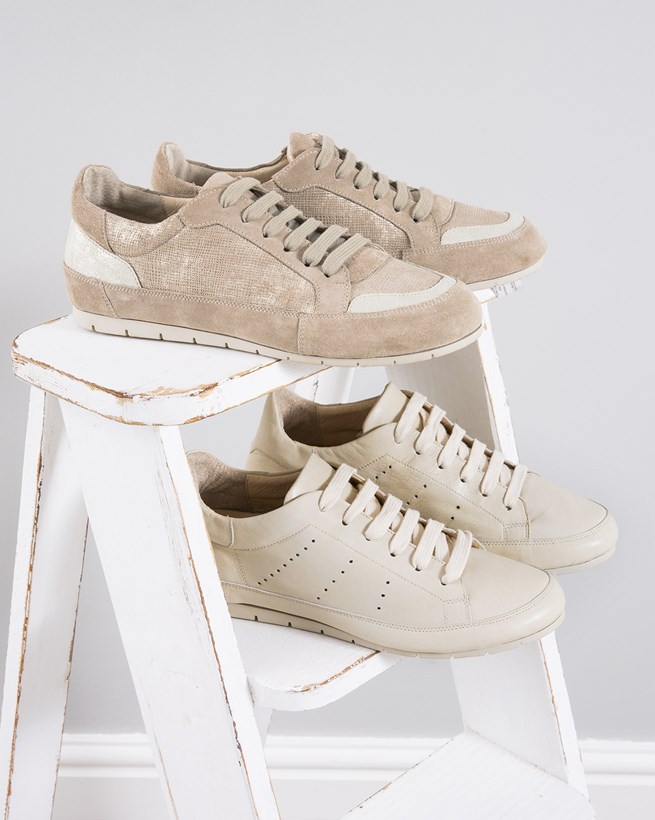 Comfort Trainers
Product Code: 7379
was: £110.00
now: £77.00
save 30%
Free Returns and Exchanges
On all UK orders
Product Details
Using soft tones of leather and suede and with a concealed wedge heel, these are sure to be the most comfortable shoes you will own.
Suede upper, rubber sole
Made in Europe
Sponge clean
Sizes: EU 36–41
Internal wedge heel: 3cm
Add a review
By submitting a review you confirm that you agree to our T&Cs
Sorry, something went wrong. Please try again or contact us to report this error.
Thank you for taking the time to post your review. Your review may take some time to appear in the list of reviews, as all reviews are manually checked to prevent spam.
5
Joanna Verity
Posted: 27 Mar 2017
These are so comfortable. I've only just got them, so can't comment on how well they will last, but they look well made, and a lovely colour that will go with everything. I agree with the customer who commented on the laces. I have average width feet, but even so the laces aren't long enough to tie up properly. I either won't do them up, or if that doesn't work out, I'll buy some longer laces. Other than that, I love them.
5
Amanda Lunt
Posted: 02 Mar 2017
These are by some way the most expensive trainers I have ever bought, but for style and comfort they are worth it. I have narrow feet, and for me they're a little bit wide in the ball of the foot, but I'm recovering from a foot injury and need a bit of ease along with the support. They are beautifully soft and easy to put on and off, and the sandy colour will go with most summer trousers. I just hope the suede will stand up to the British weather, so shall spray them carefully before wearing.
5
Jilly Green
Posted: 28 Feb 2017
Very comfortable and so much better looking than other trainers, lovely soft high quality suede, also more flattering with the hidden platform (about a quarter inch above the wrap round leather strip) Bought these after I got the equally fabulous high tops, of which I've ordered a second pair. As in my review of those, might I ask if they might be produced in a more weather resistant smooth leather? Thanks!x
5
A Hunter
Posted: 17 Feb 2017
I really love these trainers. Very comfortable and I really like the style. Yes I knew as soon as I saw them I had to order and wasn't disappointed. Considering the high tops now.
Loading reviews...