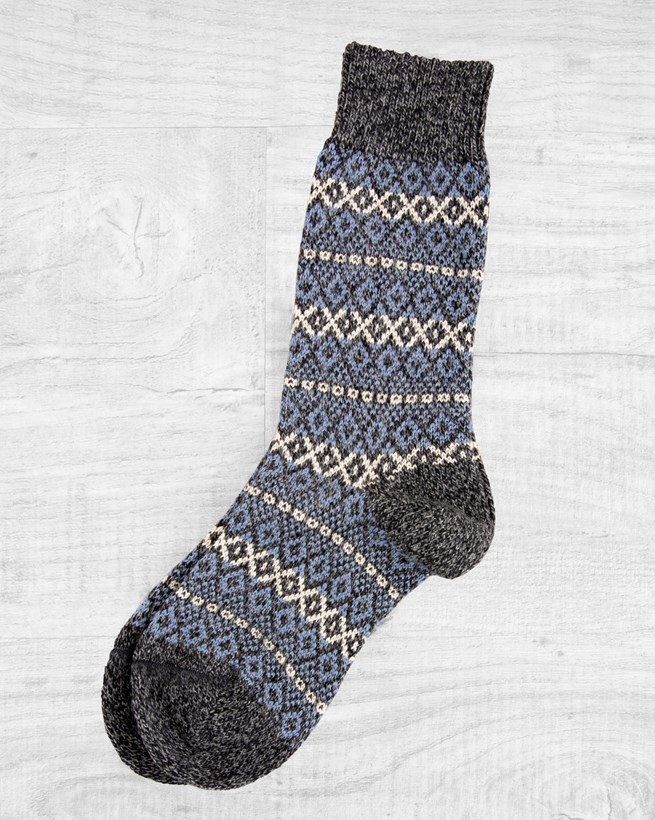 Ladies' Fair Isle Socks
Product Code: 6859
£19.00
Choose size: 1 Size Only (More than 10 in stock)
Colour choice: Charcoal Mix Size choice:1 Size Only Price:£19.00
Free Returns and Exchanges
On all UK orders
Product Details
• 70% wool, 30% nylon
• Ribbed cuff
• Fair Isle pattern
Created in yarns that are rich in wool for super-soft breathability and topped with a gently ribbed cuff, our ladies' Fair Isle socks are here to work a little magic on your sock drawer.
Combining the comfort of expert craftsmanship with the singular charm of the Fair Isle motif, these socks are available in one size (to fit shoe sizes 4-7) and a choice of three colours. Pick your favourite or charge up your week-long collection with all three!
Reviews
Ladies' Fair Isle Socks
Add a review
By submitting a review you confirm that you agree to our T&Cs
Sorry, something went wrong. Please try again or contact us to report this error.
Thank you for taking the time to post your review. Your review may take some time to appear in the list of reviews, as all reviews are manually checked to prevent spam.
5
Lisa Cintron
Posted: 13 Nov 2019
Love these socks! So cozy and warm. Ordering other two colors.
5
Deborah Daniel
Posted: 09 Oct 2019
Just what I wanted. Really pleasing fair isle design in soft pinks and blues, but most of all, warm, cosy, comfy wool socks.
5
Teresa Butler
Posted: 10 Dec 2018
Comfy, cosy socks! I am in a motorhome on the North Yorkshire Moors and my feet are lovely and toasty. Very impressed by the soft feeling on my feet.
5
Emma
Posted: 13 Dec 2017
These socks are really lovely, much nicer and softer than I imagined- my new favourites, thank you Celtic & co!
Loading reviews...