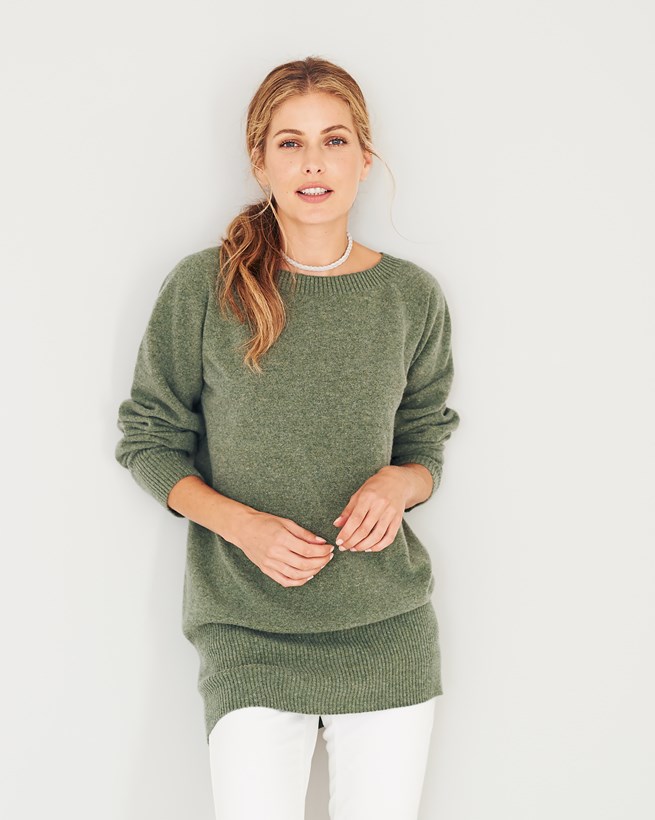 Supersoft Slouch Jumper
Product Code: 6344
£99.00
Free Returns and Exchanges
On all UK orders
Product Details
One of our bestselling Geelong knits that you'll be reaching for all year round. Relaxed yet luxurious, it has a softly scooped neckline, oversized shape and a wide hem that hugs the hips.
Made with 100% Geelong Lambswool - Geelong wool has specially spun fibres which trap more air making it fabulously warm whilst being very lightweight. It is also lovely and soft against the skin.
Length: 75cm
Made in Great Britain
Hand wash
Sizes: XS (6–8), S (8–10), M (12–14), L (16–18)
Model:
Model usually wears UK size 8
Height: 5'8"
Wearing size XS here
Reviews
Supersoft Slouch Jumper
Add a review
By submitting a review you confirm that you agree to our T&Cs
Sorry, something went wrong. Please try again or contact us to report this error.
Thank you for taking the time to post your review. Your review may take some time to appear in the list of reviews, as all reviews are manually checked to prevent spam.
5
Audrey Weatherley
Posted: 18 Mar 2019
Love this jumper (I'm wearing it as I write this review). Comfortable and warm to wear. This is the second one I have bought recently. The first one is dark navy and this one is the charcoal. They wash really well too. So, all in all, perfect!!
5
AnneKatrin (Anna) Heintze
Posted: 07 Mar 2019
bought this one to add to my collection of celtic jumpers. since I am so fair I cant normally wear camel so the navy//camel mix was a good compromise.
5
Aileen Gordon
Posted: 06 Mar 2019
I have several of these jumpers but i have to say the new navy and camel one is absolutely stunning. I wear it with a navy or camel polo and jeans. Makes me glad it's winter! One in a wine colour would be great too...
5
Lesley Grant Hunter
Posted: 02 Mar 2019
Arrived beautifully boxed in tissue paper. Am really pleased with the fit and softness of this great sweater. My only concern is the neckline, but as a friend advised wear a scarf or pearls. This is my first sweater of many I hope!!!
Loading reviews...