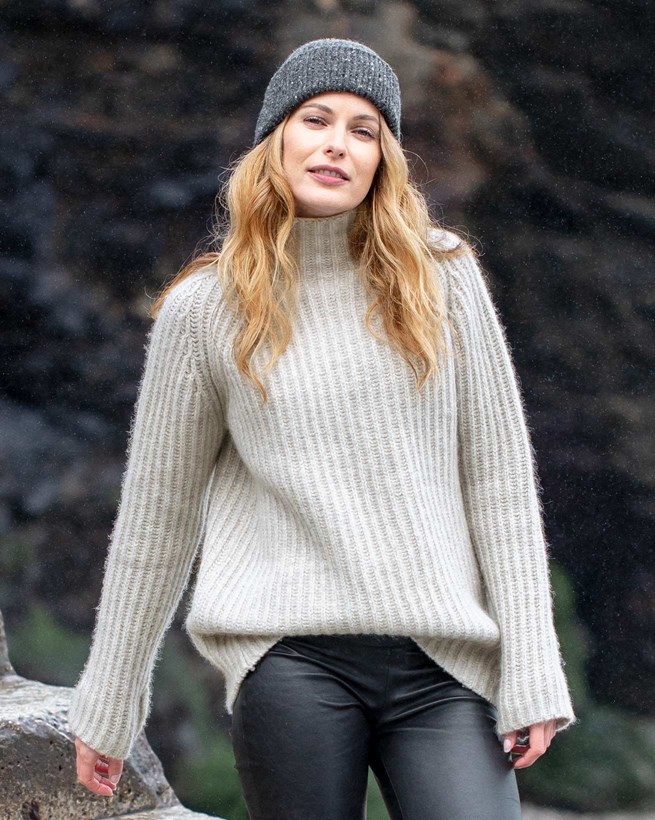 Chunky Fishermans Rib Jumper
Product Code: 7510
Free Returns and Exchanges
On all UK orders
Product Details
• 100% lambswool
• Grown on roll neck
• Relaxed fit
• Made in Europe
Borrow from the boys with our chunky fisherman's rib jumper. The menswear classic gets a feminine overhaul thanks to a 100% lambswool knit for strokable softness. A marled, slightly textured effect lends further depth to this piece, while a laid-back cut and grown-on roll neck make it ideal for layering in frosty snaps.
Roll up the sleeves to reveal your chosen midlayer, and tuck it loosely into slim-fit denim or stretch-leather leggings for a perfectly balanced silhouette. Laced suede boots and a beanie hat will provide the perfect finishing touches for outdoorsy style with a cosy touch.
Made with 100% lambswool - Created from the first shearing of a lamb, this elegant material possesses a softness and elasticity that makes it perfect for any item that requires featherlight breathability. Ever so slightly thicker than Merino, lambswool is shorn when the sheep is just six or seven months old, delivering fibres that are smooth and strong by their very nature, and therefore require very little treating before they're ready for use.
Model:
Model usually wears UK size 8
Height: 5'8"
Wearing size small here
Features:
Due to the chunky nature of this piece, it is a generous fit, perfect for layering over lighter layers.
Length: 72cm
Reviews
Chunky Fishermans Rib Jumper
Add a review
By submitting a review you confirm that you agree to our T&Cs
Sorry, something went wrong. Please try again or contact us to report this error.
Thank you for taking the time to post your review. Your review may take some time to appear in the list of reviews, as all reviews are manually checked to prevent spam.
5
Claire Keleher
Posted: 01 Oct 2019
As always, Celtic &Co. have produced this lovely jumper. Just the thing for winter,warm but light and soft,good colour Blue marl.The size 10 is a perfect size for me. Thanks!
5
Sue Mordaunt
Posted: 30 Sep 2019
I love this jumper it is very soft and a really beautiful pale blue/grey marl. It is a heavy knit greater for cooler days. I am a size 12-14 and med. is a perfect fit. The funnel neck sits well and does not irritate. For me this was a big purchase but worth every penny. Only comment is that obviously it is hand wash but states not a hand wash in washing machine , I am dreading the actual hand wash and wringing and dripping . I hope this all works out okay !
Dear Sue, Thank you for your lovely review of this much loved Chunky Fishermans Rib Jumper, we hope that you don't mind us sharing it with our Product Team and they pride themselves in the collections they design. Our Cleaning and Care section should help you maintain the beauty of this jumper but should you need any further assistance our Customer Service Team are more than happy to help. Kind regards, Rebecca
5
Kari Wilson
Posted: 16 Nov 2018
I don't think Ive ever felt such a soft garment in my life! I ordered the Medium, as Small was out of stock. Sadly its just too big :( I'll wait for the Small to come back in.. Cant recommend this enough.
5
Christina Firth
Posted: 03 Nov 2018
Lovely and very pretty jumper. Such a feminine colour and very warm and cosy. Usual superb quality from Celtic, it's really nice to support British retailers and brands, everybody should be buying British as much as they can.
Loading reviews...