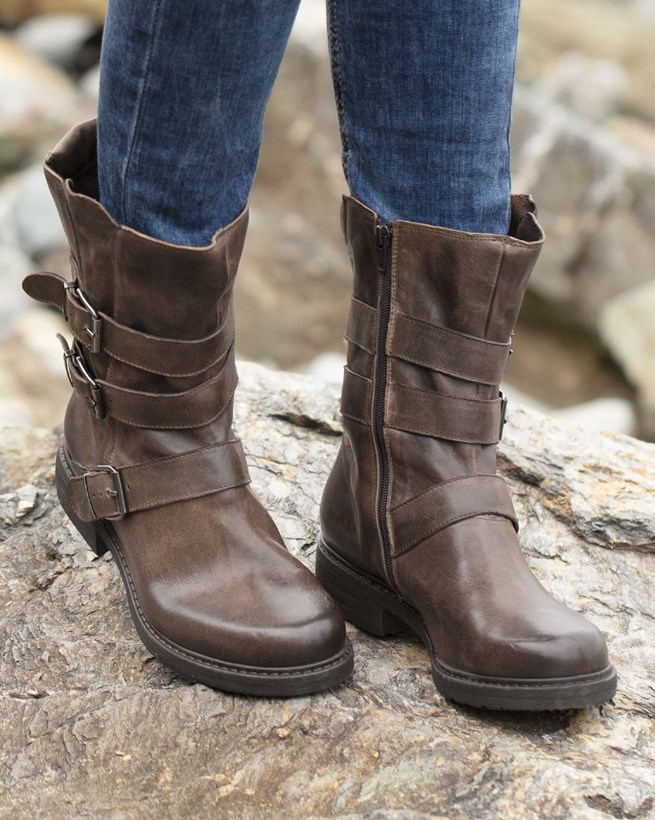 Biker Boots
Product Code: 7213
£185.00
Free tracked shipping to Canada
Price includes all Canadian duty and taxes
Free returns on all Canadian orders
Product Details
• 100% leather upper
• Triple buckled straps
• Antique effect upper
From clambering over rocks to shopping trips on the weekend, our leather biker boots will quickly become your new 'pull on and go' pair.
Crafted in rich leather with an antique-brown hue for styling versatility, these boots combine a laid-back shape through the calf with triple straps held in place by vintage-effect roller buckles.
Characterful burnishing gives this pair a lived-in look from the outset, adding an outdoorsy, adventurous vibe to any and every ensemble.
Add a review
By submitting a review you confirm that you agree to our T&Cs
Sorry, something went wrong. Please try again or contact us to report this error.
Thank you for taking the time to post your review. Your review may take some time to appear in the list of reviews, as all reviews are manually checked to prevent spam.
5
Barbara Harwood
Posted: 11 Oct 2019
Great boots great style whether with a dress skirt or jeans. Well made. Very comfortable and can easily wear a thick sock with them. They are so warm too.
5
Anne
Posted: 18 Apr 2017
Like other customers I risked going down a size with these and they fit perfectly. Very comfortable and I shall be wearing them often. As other people have said they look slightly edgy and rock chic!
5
Ny Rouse
Posted: 30 Mar 2017
I was hesitant to purchase these in the sale as my normal size 40 was out of stock. I phoned C&C and was assured that this roomy boot would fit -and it does, with toe wiggle room to spare. I am a runner with muscular calves and still have room to tuck in boot cut jeans. I've been wearing them for two weeks now. They are very comfortable and stand up to Canadian cold temperatures, without leaving your feet overheated. Embrace your inner rock chic and grab a pair; you won't regret it.
5
Danielle Colyer
Posted: 03 Jan 2017
Unsurpassed quality! These boots are comfortable and stylish and warm! I wear them almost every day since they arrived.
Loading reviews...