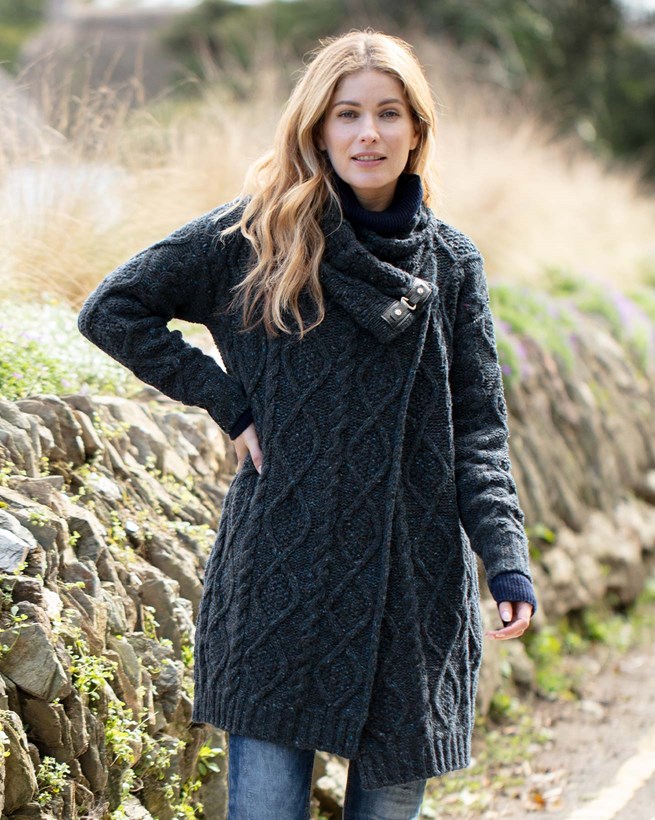 Donegal Buckle Detail Coatigan
Product Code: 7511
Free Standard US Shipping
Price includes US duty and taxes
Free Returns on all US orders
Product Details
• 100% Donegal wool
• Grained leather strap
• Nickel fastenings
• Open pockets
Half coat, half cardigan, our Donegal buckle-detail coatigan is the kind of piece you turn to over and over again. Designed in rich Donegal wool with intricate cabling throughout, this cosy design features a nickel buckle and leather strap with a slightly grained texture. The coatigan is fastened with a popper situated just above the buckle, perfect for when you're dealing with frosty fingers.
Pull it on with blue denim, a chunky roll-neck and your favourite low-top sneakers, and plunge those chilly hands deep into the open pockets at the side. With this hybrid style in your rotation, you'll be longing for cool days.
Made with 100% Donegal Wool - Combining the luxury of pure new wool with characterful flecks, our Donegal wool consists of a base blend of up to seven different colours. A further seven or eight solid flecks add further contrast along the yarn's surface, generating a pleasingly rustic effect with a super-soft and light cosiness.
Model:
Model wears US size 4
Model height 5'8"
Wearing size small here
Features:
Length: 32"
Sizes: S (4–6), M (8–10), L (12–14)
Reviews
Donegal Buckle Detail Coatigan
Add a review
By submitting a review you confirm that you agree to our T&Cs
Sorry, something went wrong. Please try again or contact us to report this error.
Thank you for taking the time to post your review. Your review may take some time to appear in the list of reviews, as all reviews are manually checked to prevent spam.
5
CW
Posted: 12 Nov 2019
Absolutely thrilled with this cardigan. It's flattering (I'm a large 12 or 14 & the M is a perfect fit), plus practical, warm & cosy. The colour is lovely. I hesitated initially, as is quite expensive, but glad I took the plunge.
5
Vivienne Dyer
Posted: 30 Sep 2019
Beautifully made and a really lovely colour that will look good with jeans or for more formal wear. Looks good on and I think it will be a go to coat this winter.
5
Kim P
Posted: 25 Sep 2019
I was in love with this cardigan as soon as I opened the box. It has a pleasingly flattering gently cocooned shape and looks good both fastened and open. The richly coloured wool is gently flecked and has a fabulous lanolin smell that reveals its quality and character. I'm sure I will wear it a lot. I'm a size 12 and chose a medium.
5
Susan Lyon
Posted: 07 Oct 2018
I just love my coatigan! It is really warm and looks just fabulous! The cut is just right and it hangs beautifully. Lovely over skinny jeans!
Loading reviews...