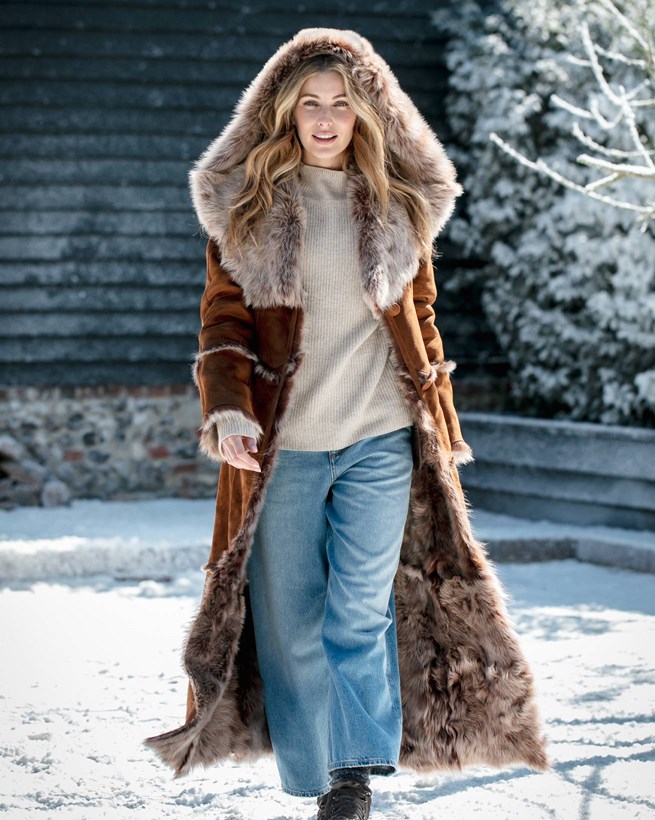 Hooded Toscana Coat
Product Code: 5801
Free Returns and Exchanges
On all UK orders
Product Details
• 100% Toscana sheepskin
• Made in Europe
• Leather-covered buttons
• Statement hood and collar
The last word in luxury, our hooded coat is crafted in silky Toscana sheepskin and falls almost to the floor for high drama in low temperatures. The drape of this coat is accented by the statement hood and collar, while the long-wool Toscana peeps out further at the turnback cuffs.
The fit is intended to accommodate underlayers, while still creating a streamlined silhouette when secured with the leather-covered buttons.
100% Toscana Sheepskin - Invest in a Toscana sheepskin piece and we guarantee you'll be turning to it for years to come. Our Toscana apparel and accessories are carefully designed and crafted to showcase that characterful long wool in all its glory, ranging from muted dark hues to frosted versions with snow-tipped fibres. Toscana is heralded for its unique ability to provide lightweight insulation, making these pieces perfect for chilly weather that calls for high-end style.
Model:
Model usually wears size 8
Height: 5'8"
Wearing size 8 here
Features:
Please be aware that as sheepskin is a natural product, variances within the colour and texture of our outerwear is to be expected.
Reviews
Hooded Toscana Coat
Add a review
By submitting a review you confirm that you agree to our T&Cs
Sorry, something went wrong. Please try again or contact us to report this error.
Thank you for taking the time to post your review. Your review may take some time to appear in the list of reviews, as all reviews are manually checked to prevent spam.
5
Judith Dunkerley
Posted: 06 Feb 2019
What a beautiful coat! I'm absolutely thrilled! It has already been admired and I feel like a million dollars when I'm wearing it. I found the sizing to be perfect and the quality is amazing. Well done Celtic for continuing to supply this stunning garment!
5
Paul Hosein
Posted: 29 Nov 2018
Really delighted with the coat. Ordered slightly large - per the other comments - but a really delightful thing. The whole process was quick and straightforward all the way through. Many thanks
5
Lesley Hopkins
Posted: 14 Jun 2018
I absolutely love this coat. When i wear this i feel like everyone is looking at me thinking where did she get that coat?. Its so soft and warm. In one of the reviews someone commented on the hood not being finished, and being a raw edge. But i don't think it would look right if it had a hem it would be too bulky at least you can fold it back to where you want it. And when you have the hood down its wouldn't look or hang right at the back. Celtic i think you have made the coat perfectly.
5
Jude Farrall
Posted: 31 Dec 2017
Lovely coat super quality just like the photo. Found it to be a bit on the small size for its sizing . Disappointed with Celtic overall as I should have benefitted from a 10% discount which I have not had. I have rang 6 times so far with a promise of a return call which I never receive . So very poor customer service means I'll not be making another purchase .
Hi Jude, I'm so sorry for the delay in getting back to you about this. I can see from your account this has been rectified, but I shall email you now to confirm this. So glad you like the coat, it really is a beautiful piece. :-)
Loading reviews...