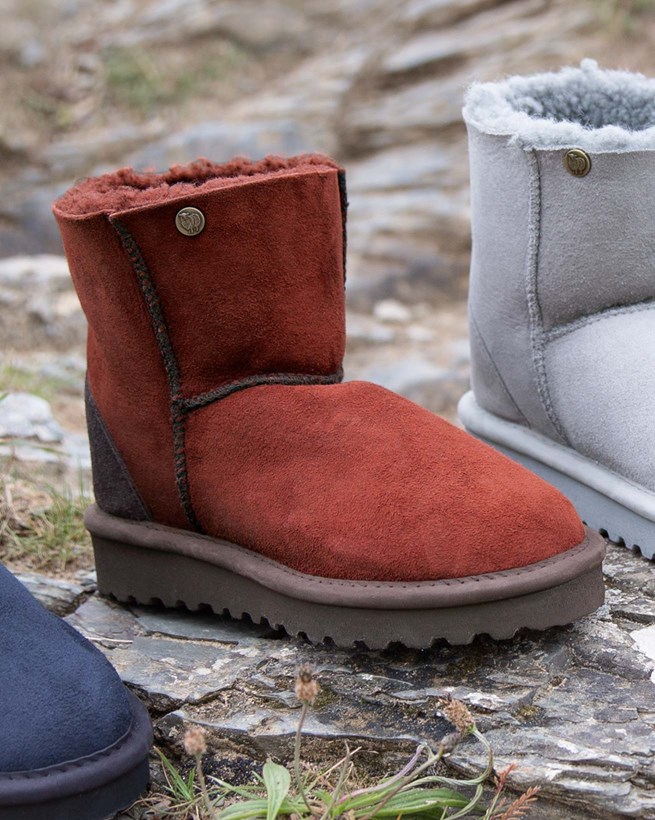 Celt Shortie Boots
Product Code: 6585
Free Returns and Exchanges
On all UK orders
Product Details
Height 14cm
100% British sheepskin
Machine washable with Celtic Wool Wash
Made in Britain
Ridged Rubber Sole
A long-standing favourite with our customers, the Celt shortie boots are hand crafted in the finest British sheepskin in an array of colours, so you can always find your perfect pair.
Ideal all year round for beach walks, forest adventures and lazy weekends, these boots are built on a lightweight rubber sole with a ridged texture, affording you great grip that's designed to last.
A cute pin completes the look towards the top of this pair, which can be easily teamed with rolled-up denim.
When trying on your footwear for the first time, it may feel very tight across your toes and instep. This is nothing to worry about, as within an hour or so of wearing, the boots or slippers will loosen off as the wool starts to bed down and mould to your feet. So do not order a size bigger than you usually wear, otherwise they will end up too big for you. If you know you are a half size – then we recommend buying the size down unless you regularly buy up a half size.
Machine Washable
We recommend that you wash boots & slippers on a maximum of 30 degree wool cycle, using ONLY Celtic Wool Wash liquid that is suitable for automatic washing machines.
Do not soak
Do not use fabric conditioner
Do not use artificial heat to dry
Do not dry directly in Sunlight
Celtic & Co. products are made with the highest quality craftsmanship and sourced from the finest materials available. While these materials have been treated with premium dyes, some dye transfer may occur onto light clothing or furniture – as with any deep, richly dyed material.
Reviews
Celt Shortie Boots
Add a review
By submitting a review you confirm that you agree to our T&Cs
Sorry, something went wrong. Please try again or contact us to report this error.
Thank you for taking the time to post your review. Your review may take some time to appear in the list of reviews, as all reviews are manually checked to prevent spam.
5
Sue R
Posted: 08 Oct 2019
Really pleased with my new boots. Bought size 6. Usually I am a size 6.5 nearly 7. They felt snug when I first put on but was guided by other reviews and second day they feel so good. I was looking for a boot that I could use indoors and out as I have a new puppy.
5
Wendy Bellars
Posted: 13 Jul 2019
I was pleased to get my size in the sale. I love the Celt boots, as they are so comfortable, easy to care for and look interesting. If they weren't machine washable I wouldn't have bought this lighter colour - especially as my dogs tend to stand on my feet when we're out walking! - but I think these will be fine. I think these are my fourth pair of Celt boots - possibly fifth - and my first "shorties".
5
Zoe Berry
Posted: 06 May 2019
Very happy with these shortie boots. So comfortable, I have a pair of Aqualamb and wanted something for the slightly warmer weather, perfect. Good service too.
5
Noreen Ferguson-Hughes
Posted: 13 Mar 2019
I bought these in navy and grey 4 years ago and they are still amazing - so so so comfortable , great quality and wash well too. Going for a new colour for spring x love love love Celtic & Co
Loading reviews...