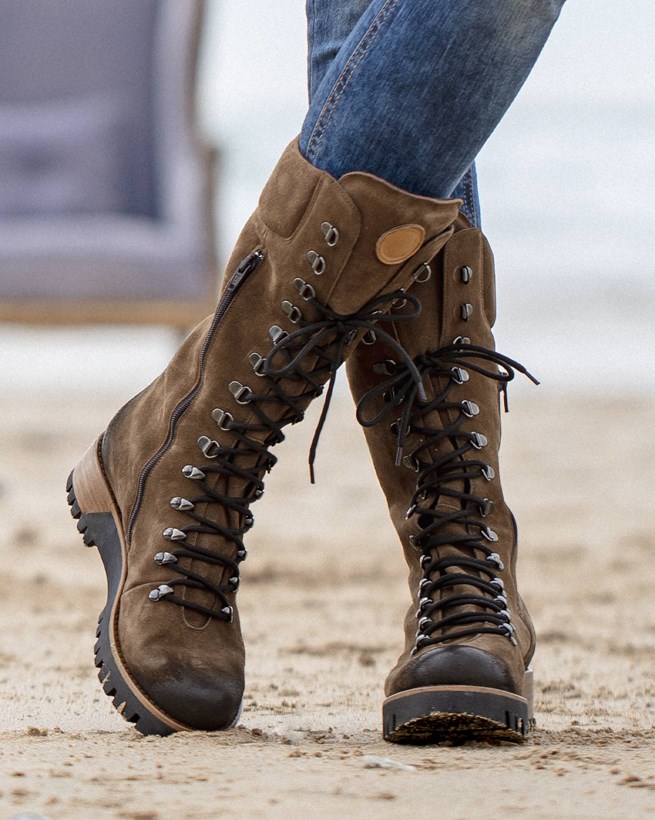 Wilderness Boots
Product Code: 7082
Free Returns and Exchanges
On all UK orders
Product Details
Height: 30cm plus 3cm heel
Leather upper,
Rubber sole
Treat your boot collection to the most versatile lace-up on the planet. Crafted in suede leather with a distressed finish for extra character, our wilderness boots are designed to go with anything and everything in your wardrobe.
A hiker-style lacing system lends a contemporary touch, while the rubber outsole features a lugged structure to offer unbeatable grip whether you're scrambling over rocks at the beach or heading into town for a brunch date.
Pull on your trusty denim, lace this pair up and head for adventure with a healthy dose of effortless style.
To keep your boots in tiptop condition and as water resistant as possible, we recommend treating them regularly with a protective spray suitable for leather and suede footwear and sponge cleaning.
Add a review
By submitting a review you confirm that you agree to our T&Cs
Sorry, something went wrong. Please try again or contact us to report this error.
Thank you for taking the time to post your review. Your review may take some time to appear in the list of reviews, as all reviews are manually checked to prevent spam.
5
Jemima
Posted: 01 May 2019
Absolutely love these boots, great quality, very comfortable and excellent fit!
5
Jayne Moy
Posted: 25 Apr 2019
Hi there, I love these boots because I think I'd get more all year around wear out of them than the Woodsman boots because they're not lined. But I would prefer them in Navy or black. Might you have them in either of those colours coming soon? I have 2 pairs of your wonderful sheepskin boots which I adore and have my eye on the waterproof ones too! Kind regards, Jayne 😊
Hi Jayne, Thank you for your comments, you'll be happy to hear that the Wilderness boots will be returning in Black for Autumn/Winter 2019. Keep checking back on our website or sign up to our mailings to be kept informed of our new products. Kind regards, Celtic & Co.
5
Donna Tandy
Posted: 17 Mar 2019
This is my second pair of boots from you . My other pair lasted me for 5 years . They are a considered purchase, but very true to size, well made and comfortable . The quality of your stock is very good. Buy a tin of waterproof spray, when you first get them though.
5
Anna
Posted: 22 Feb 2019
Love these boots, very comfortable and stylish.Despite people saying how large they were I had to send back 7/40 as they were slightly tight and for me a bit narrow. 7.5/41 is fine. Just reeding another review says that sizing has changed a bit to narrower fit which perhaps explains it
Loading reviews...