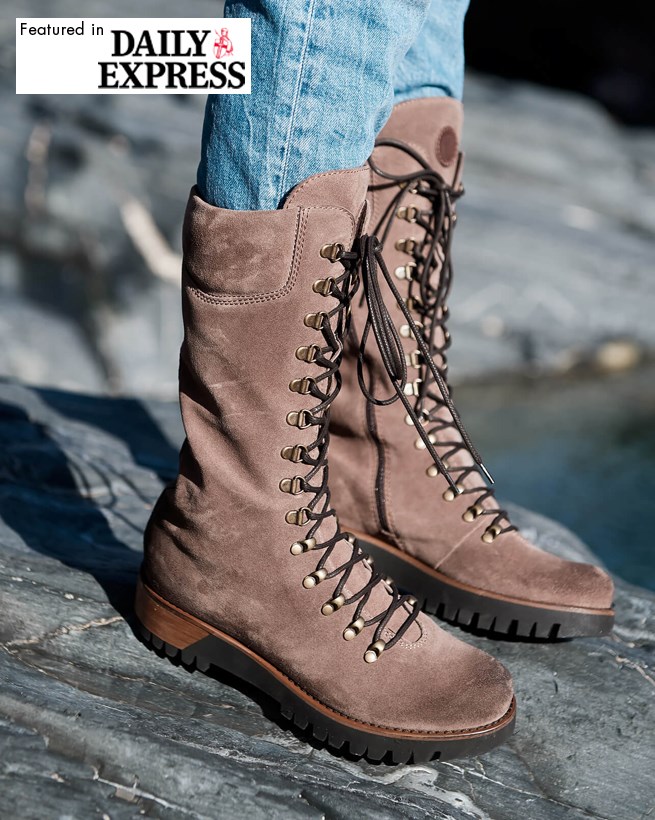 Wilderness Boots
Product Code: 7082
Free Returns and Exchanges
On all UK orders
Product Details
Whether you're scrambling over rocks or pounding the pavement, these hiking-inspired, fashionably stylish lace-up boots won't let you down. They are crafted from distressed sueded leather and have sturdy, supportive soles, with a side zip, as well as laces to adjust the fit.
Height: 30cm plus 3cm heel
Leather upper, rubber sole
Made in Europe
Sponge clean
To keep your boots in tiptop condition and as water resistant as possible, we recommend treating them regularly with a protective spray suitable for leather and suede footwear.
Add a review
By submitting a review you confirm that you agree to our T&Cs
Sorry, something went wrong. Please try again or contact us to report this error.
Thank you for taking the time to post your review. Your review may take some time to appear in the list of reviews, as all reviews are manually checked to prevent spam.
5
kathryn shearsmith
Posted: 14 Nov 2018
I absolutely love these boots! I wore them for the first time for a long walk , they were so comfortable and no blisters. They look gorgeous too!
5
Angela Thorpe
Posted: 08 Nov 2018
Love these so much I must confess I have 3 pairs - taupe, blue and black. Really like the subtle change to the heel design in this years. In the black the eyelets are in a dark grey metal not silver which looks great. There is a small difference in the positioning of the seams on each one but this is to be expected with handmade boots.
5
jane Moseley
Posted: 06 Nov 2018
Got these last year in the taupe as navy blue sold out - gutted! Bought in a size 5 and they were quite roomy but very comfortable non the less. When I saw them in black this year and no navy option I thought I'd invest in a pair. Ordered the same size and have to say that the sizing has changed, for me the slightly narrower fit is much better. Please bring back the navy - these are awesome stylish boots which are light and VERY comfortable.
Hia Jane, Thank you for your comments about the Navy colour we used to stock, this feedback has been passed on to our product team for consideration when designing future collections.
5
Jan Lawrence
Posted: 01 Nov 2018
Love, love, love love them. So comfortable and warm.
Loading reviews...