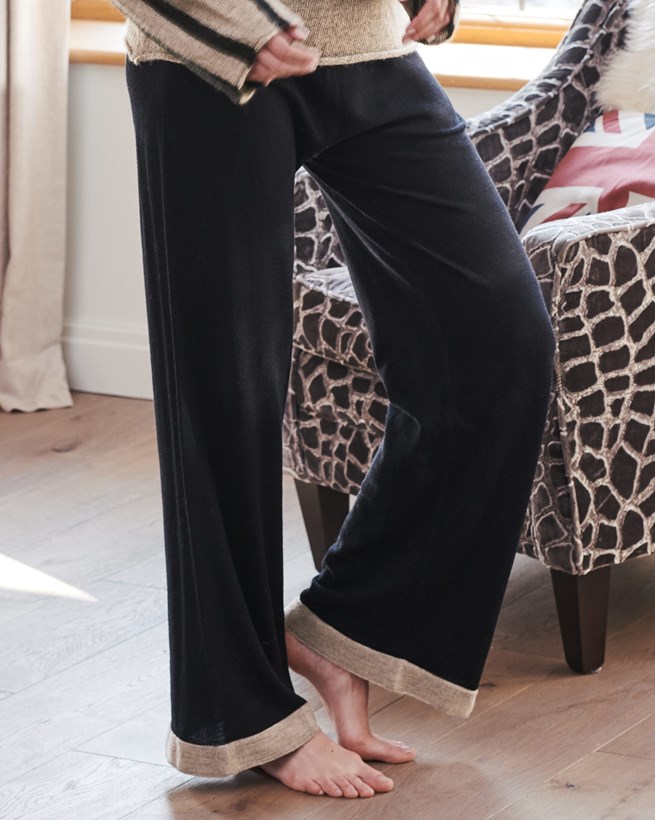 Wide Leg Merino Lounge Pants
Product Code: 7432
£88.00
Free Returns and Exchanges
On all UK orders
Product Details
• 100% Merino wool
• Wide leg
• High waistband can be folded down
• Made in Britain
Taking our bestselling lounge pants and adding a hint of yoga-inspired styling, our wide-leg Merino pants are about to revolutionise your lazy days. Lightweight Merino construction provides optimum breathability and a super-soft feel against the skin, while the wide-legged cut makes them perfect for slipping on at the end of a hectic day.
Heading out? You'll find these the most versatile foundation, as the high waistband can be worn up or folded down over the hips, plus the silhouette lends itself to the season's layering trend. As our customers themselves have commented, you'll soon find yourself living in this super-luxe style.
Made with 100% Merino Lambswool - Unbelievably soft with its super-fine silkiness, Merino wool is a hero yarn for so many reasons. This natural fibre is able to breathe equally effectively in both warm and cold conditions, creating an efficient microclimate around your body for ultimate comfort, whatever the weather.
Model:
Model usually wears UK size 8
Height: 5'8"
Wearing UK size S here
Features:
Inside leg length: 73cm
Sizes: XS (6-8), S (8-10), M (12-14), L (16-18)
Reviews
Wide Leg Merino Lounge Pants
Add a review
By submitting a review you confirm that you agree to our T&Cs
Sorry, something went wrong. Please try again or contact us to report this error.
Thank you for taking the time to post your review. Your review may take some time to appear in the list of reviews, as all reviews are manually checked to prevent spam.
5
Sarah Hammond
Posted: 13 Nov 2019
I love these trousers so comfortable and they don't seem to knee. I have just ordered the top to go with them
5
Julie Dinnis
Posted: 28 Aug 2019
Good quality trousers.feel really soft.the fit is good,but I will have to turn them up as they come up quite long.I am 5'4".very happy with my purchase as I am with all Celtic purchases.
5
Rohaise Newall
Posted: 13 Mar 2019
I have spent the winter in these lovely trousers. So comfortable and comforting for my aches and pains and a perfect length. Thank you, more colours for next season please.
5
Linda Gordon
Posted: 22 Dec 2018
I'm in pain 24/7 so finding clothes that don't hurt to wear but still look good is hard to find. Your slippers are wonderful, but I decided to try these trousers. To say I'm in heaven is putting it mildly, they're fantastic, soft and gentle but still look smart a tough combination to find! I'm 5'9", 10/12, they fit like a dream. I'm now ordering a 2nd pair! If you could add black and some other colours I'd probably buy 1 of each at least. Please don't shorten them, I know it's annoying for customers to do that, but us tall girls can't lengthen them. I hope no one else is suffering from endless pain, but if you are try these trousers, regardless they make you look and feel amazing. Thank you
Loading reviews...