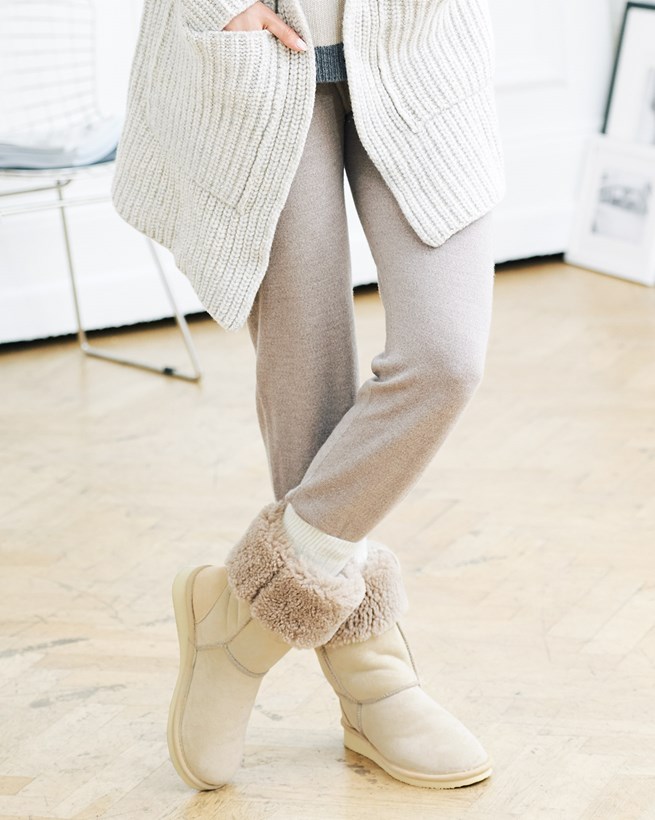 Merino Lounge Pants
Product Code: 6073
Free Returns and Exchanges
On all UK orders
Product Details
Indulge in a little casual luxury, with these ultra-soft lounge pants. Made in Great Britain, from fine merino wool, they have a comfortable ribbed waistband and tapered fit.
Made with 100% Merino Lambswool - Merino wool has superfine, silky fibres which help regulate your temperature. The fibre's natural elasticity means they stretch for a great fit and then return to their natural shape.
Inside leg 79cm
Made in Great Britain
Hand wash
Sizes: XS (6-8) S (8–10), M (12–14), L (16–18)
Model:
Model usually wears UK size 8
Height: 5'8"
Wearing UK size 8 here
Reviews
Merino Lounge Pants
Add a review
By submitting a review you confirm that you agree to our T&Cs
Sorry, something went wrong. Please try again or contact us to report this error.
Thank you for taking the time to post your review. Your review may take some time to appear in the list of reviews, as all reviews are manually checked to prevent spam.
5
Barbara O' Connor
Posted: 04 Mar 2019
Bought the most beautiful pair of lounging trousers and they are the height of warmth and comfort. I love them so much I've ordered another pair in a different colour. The quality of Celtic & Co is second to none. I wear my Celtic jumpers with (now trousers) and boots together and they're all natural fabrics. I feel a million dollars! Well done Celtic and thank you for my birthday discount.
5
Clare Curtis
Posted: 12 Feb 2019
I really felt like I was taking a risk buying these lounge pants to go with one of your jumpers. They seemed quite pricy and I wasn't sure if I would want to wear them. This is the first time that I've bought clothing from Celtic, buying two jumpers as well as these pants. Well, I just love them. The quality feels excellent. They are a really comfortable weight, much more substantial than merino baselayer leggings that I own and a great shape. I'm sure I'll be buying them in more colours.
5
helen Wilde
Posted: 07 Nov 2018
I absolutely love these. I am a size 8 and 5 foot 7 with thin legs. they are adequately long and I like the loose fit this creates. The material is really soft, feels like cashmere. Love the waist band . I would only wear them with a longer cardigan or jumper as they are a bit revealing on the crotch..but I am in my 60's !
5
Sheila Priddes
Posted: 14 Feb 2018
Really lovely, I've ordered all three colours now, only fault I can find is they are too long, most ladies are a lot shorter than your model...wish I was 5'9" and a size 10 like your model I'd be so happy:)
Loading reviews...