Ladies' Sheepskin Bootee Slippers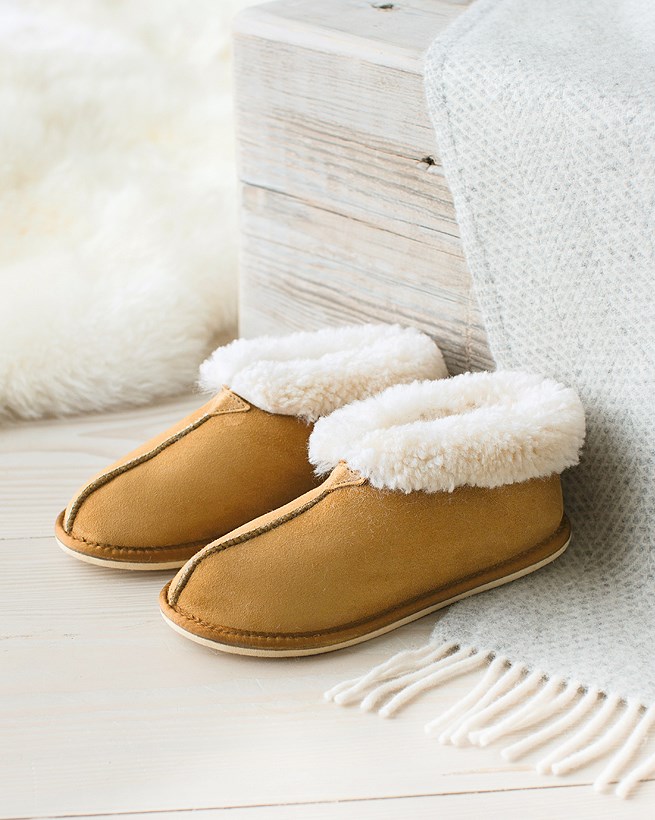 Ladies' Sheepskin Bootee Slippers
Product Code: 2100
£69.00
Free Returns and Exchanges
On all UK orders
Product Details
Cocoon your feet in our blissfully comfortable, best-selling British-made sheepskin Bootees. Handmade in Cornwall, this classic slipper is crafted from ultra-soft sheepskin and features a light yet durable sole that can be worn outside when necessary. Turn up the cuff for cosy ankles or down to reveal a woollen cuff.
100% sheepskin
Made in Great Britain
Machine Washable with Celtic Wool Wash
Also available in men's and kids' sizes.
When trying on your footwear for the first time, it may feel very tight across your toes and instep. This is nothing to worry about, as within an hour or so of wearing, the boots or slippers will loosen off as the wool starts to bed down and mould to your feet. So do not order a size bigger than you usually wear, otherwise they will end up too big for you. If you know you are a half size – then we recommend buying the size down unless you regularly buy up a half size.
Machine Washable
We recommend that you wash boots & slippers on a maximum of 30 degree wool cycle, using ONLY Celtic Wool Wash liquid that is suitable for automatic washing machines.
Do not soak
Do not use fabric conditioner
Do not use artificial heat to dry
Do not dry directly in Sunlight
Celtic & Co. products are made with the highest quality craftsmanship and sourced from the finest materials available. While these materials have been treated with premium dyes, some dye transfer may occur onto light clothing or furniture – as with any deep, richly dyed material.
Reviews
Ladies' Sheepskin Bootee Slippers
Add a review
By submitting a review you confirm that you agree to our T&Cs
Sorry, something went wrong. Please try again or contact us to report this error.
Thank you for taking the time to post your review. Your review may take some time to appear in the list of reviews, as all reviews are manually checked to prevent spam.
5
Vanessa Doherty
Posted: 14 Apr 2019
This is my first pair of these slippers and I've gotta say they're the most comfortable slippers I've ever had, arrived quickly and worth every penny! I will be buying another pair in a different colour and would definitely recommend.
5
Anne Watson
Posted: 11 Apr 2019
Love them, they are my summer ones. I already have a pair of the slipper boots which are still in fab condition. Not one piece of lambswool have they lost. I need your slippers due to a neurological condition in my feet, the slippers reduce the pain with the heat they provide. You should consider selling the slippers through orthopaedic shops they would help so many people.
5
PAMELA MOFFATT
Posted: 10 Apr 2019
I love these slippers soft and cosy , I put them on as soon as I get home . A great buy worth every penny
5
Pauline Kirk
Posted: 08 Apr 2019
Very nice slippers comfortable& practical but also pretty
Loading reviews...