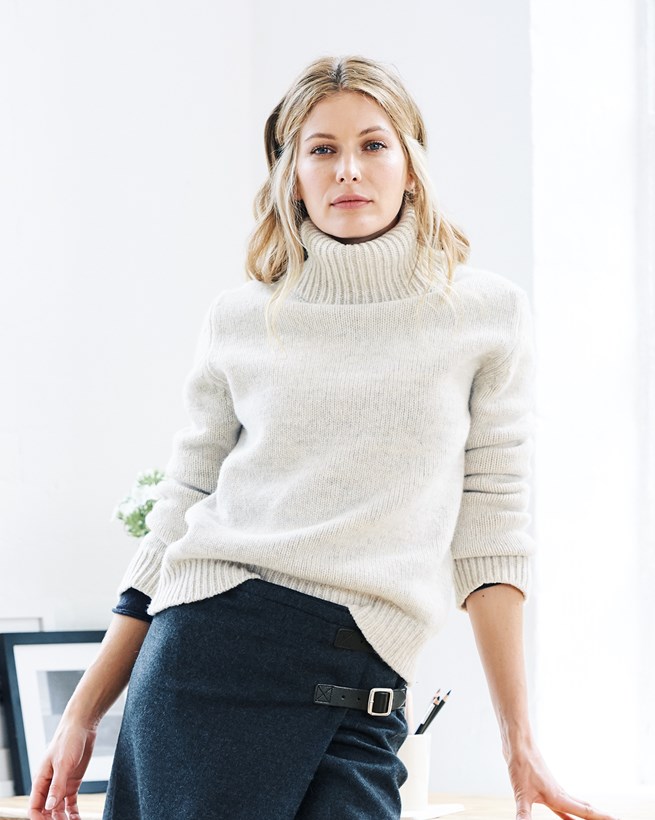 Roll Neck Slouch Jumper
Product Code: 7221
£135.00
Free Returns and Exchanges
On all UK orders
Product Details
An easy-fitting knit with a cosy roll neck and wide ribbed trims. Our Roll Neck Slouch is made in Britain from extra-fine baby merino, so it's soft and warm but surprisingly lightweight. We love it worn with jeans for relaxed off duty dressing.
Made with 100% Merino Lambswool -Merino wool has superfine, silky fibres which help regulate your temperature. The fibre's natural elasticity means they stretch for a great fit and then return to their natural shape.
Length 65cm
Made in Great Britain
Hand wash
Sizes: S (8–10), M (12–14), L (16–18)
Model:
Model usually wears UK size 8
Height: 5'8"
Wearing UK size S here
Reviews
Roll Neck Slouch Jumper
Add a review
By submitting a review you confirm that you agree to our T&Cs
Sorry, something went wrong. Please try again or contact us to report this error.
Thank you for taking the time to post your review. Your review may take some time to appear in the list of reviews, as all reviews are manually checked to prevent spam.
5
Barbara Halpern
Posted: 23 Dec 2018
This is a lovely sweater, very well made and heavy enough for those really cold days and nights. I am usually between sizes- small to medium, size 6 or 8 depending on how it's cut (i'm 5'-5", 130 lbs.). I ordered a small, it fit well but I was nervous it would shrink with washing so I ordered a medium. I ordered the ecru marl color, it is definitely darker than it appears on the model, more of a color you'd expect from natural undyed wool. I wound up keeping the medium. The roll neck is somewhat confining, so beware if you are sensitive to that (I am fine with it). The only complaint is the return process from the US, I spoke to 3 different customer service reps., none of whom knew what to do with the paperwork you download online. I took it to USPS yesterday and am crossing my fingers it is received back in the UK!
Thank you for your feedback, we're so pleased you love the sweater! We will be sure to look into who you spoke with regarding the returns paperwork, looking at the calls it seems you got through to our our of hours team. We will be sure to speak with them and make sure they are up to date on our services.
5
Jules
Posted: 20 Dec 2018
Simple design, very classy, and great for warding off the winter chill. I've just bought the charcoal marl, which looks great, goes with everything, fits perfectly (size small), and is already indispensible in the cold weather. Great to wear a BRITSH made garment as well! Only slight quibble for me is that I find the wool slightly itchy, especially the high neck, but it's not a problem as I can wear a lightweight long-sleeved polo-neck top underneath. The length is fine - some people have found it a little too short, but there's quite a lot of give in the wool, and you can pull it down a bit by hand. I think the length complements the classic design of the sweater anyway. A very useful purchase - not cheap, but worth it!
5
Nancy Berndt
Posted: 14 Nov 2018
Another smashing success of a sweater! I hesitantly ordered a S (always am XS) because it wasn't available in XS. Turns out it fits beautifully and is now probably the warmest sweater I own. A bit more length would be wonderful (perhaps in the future?) but I am very pleased with it.....as I am with all Celtic and Co products. You rock!
5
Penelope Overton-Smith
Posted: 06 Nov 2018
This is the first time I have purchased anything from Celtic & co and I am so pleased with this jumper I have ordered another one. I have the ecru colour which is a lovely cool toned off white with a tiny touch of grey which suits my blonde, blue eyes and fair skin. I bought the medium which is a generous size, I am 10 top and 12 bottom, the sleeves are long which I love. The length for me could be slightly longer, but only because I like to cover my bottom. The wool is super soft and I have no trouble with it around my neck. The quality is excellent. I have lived in this jumper all week and don't want to take it off. I have the charcoal marl coming next along with the woodman boots, can't wait. Many thanks.
Loading reviews...