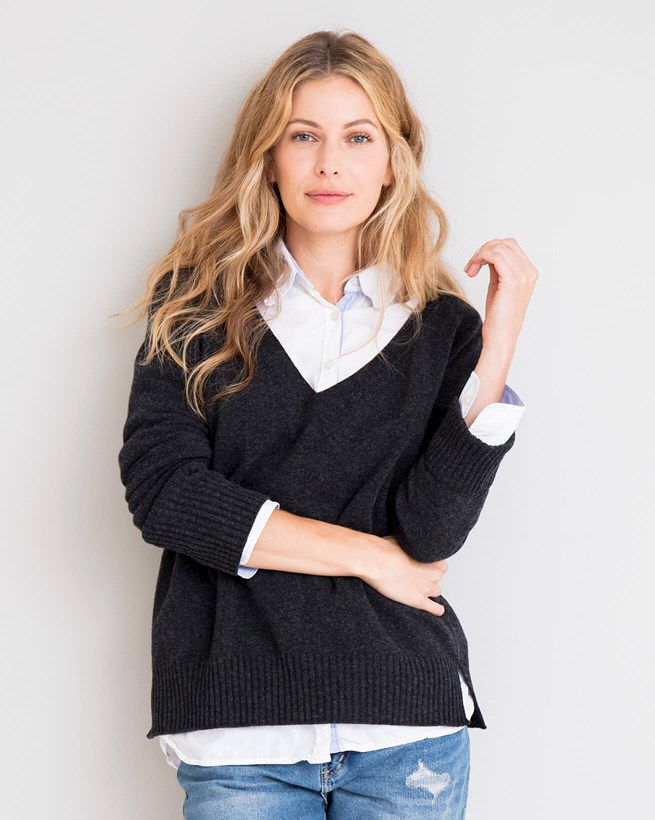 Deep V-Neck Jumper
Product Code: 7464
£90.00
Colour choice: Charcoal Size choice:Large Price:£90.00
Free Returns and Exchanges
On all UK orders
Product Details
The perfect piece for transitioning between seasons – this super soft Geelong jumper is the ideal throw it on knit for relaxed and easy dressing, alternatively, layer over a tailored shirt for a polished look.
Made with 100% Geelong Lambswool - Geelong wool has specially spun fibres which trap more air making it fabulously warm whilst being very lightweight. It is also lovely and soft against the skin.
Length: 60 cm
100% Geelong lambswool
Made in Great Britain
Hand wash
Sizes: S (8–10), M (12–14), L (16–18)
Model:
Model usually wears size 8
Height: 5'8"
Wearing size S here
Reviews
Deep V-Neck Jumper
Add a review
By submitting a review you confirm that you agree to our T&Cs
Sorry, something went wrong. Please try again or contact us to report this error.
Thank you for taking the time to post your review. Your review may take some time to appear in the list of reviews, as all reviews are manually checked to prevent spam.
5
Cat Gemmill
Posted: 23 May 2019
Love this jumper - really soft and great relaxed fit. Would definitely buy in other colours if available.
5
Stephanie MR Gee
Posted: 06 Apr 2019
Five stars from me too! This is a lovely classic v-neck jumper that is a perfect fit. The wool is soft and the colour versatile - can be worn with jeans or dressed up. Just wish I could buy another in a different colour. Fast delivery.
5
Jilly Green
Posted: 20 Mar 2019
Five star success! I bought two as I know I'll get a lot of use from this simple classic style in dark charcoal which goes with pretty much everything. A little lighter weight than my "Easy V-neck" sweaters and the shorter length is much better as I'm 5'2" size 4, size small just right. It would be great if the clothes were shown on models of different height and build, as you do take several shots of each item, so we could all better judge the fit before ordering. Thanks again to you all!
4
Andrea Ave
Posted: 09 Apr 2019
I do not own this sweater but several years ago I purchased the slouchy v-neck jumper, also of Geelong. This wool is fantastic. Mine has withstood cat & dog nails and candle flames. I am drawn to the apparently less slouchy appearance of this v-neck but not the colour. At the time I purchased my slouchy v-neck it was offered in a much broader range of rich, lovely colours, but the colours in the past 3-4 years have been rather dull. I would purchase this particular v-neck in multiples if it were offered in, say, chocolate brown, ivory, mallard/teal, cerulean, vermilion.