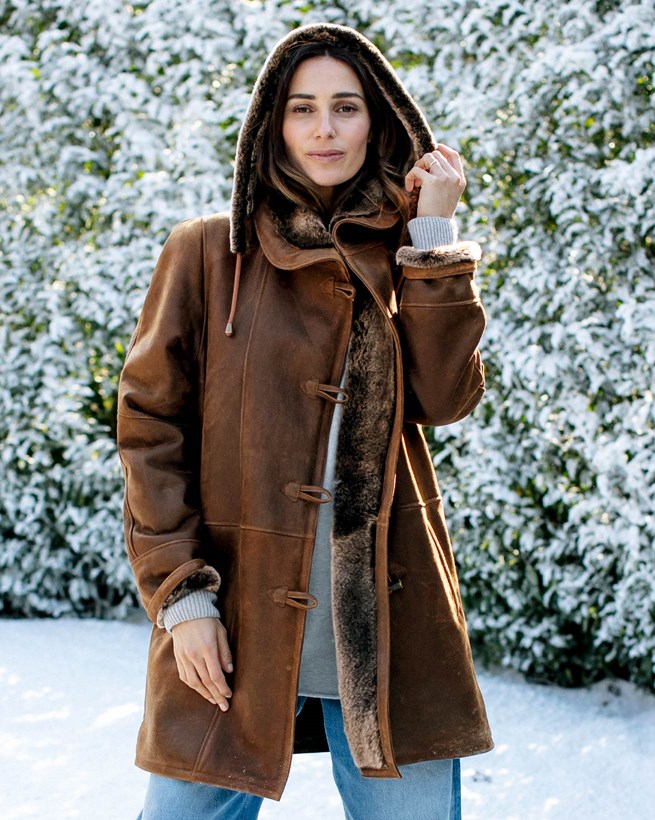 Celtic Duffle Coat
Product Code: 6026
Free Standard US Shipping
Price includes US duty and taxes
Free Returns on all US orders
Product Details
100% shearling
Made in Europe
Detachable hood
Horn toggles and asymmetric zip
Quintessentially British with a little Celtic & Co. character, our classic duffle coat is cut to a thigh-skimming length for just the right coverage. Designed with a storm fastening, horn toggles and turnback cuffs, this piece is created in super-soft shearling with a nappa finish for a luxurious feel.
The hood is generously proportioned and can be removed for total versatility, with an elegant collar underneath that can be worn up or down. Frosty days are the perfect excuse for breaking this out of the cupboard: just add seasonal denim, cosy knitwear and statement boots for a fresh spin on cool-weather dressing.
Made with 100% Shearling - Tanned with its fleece side intact, shearling brings together the sheer elegance and rich patina of leather with the unbeatable cosiness of wool. This natural insulation material helps to draw moisture away from the body and creates something of a microclimate around the body, making it just as practical on springtime evenings as it is in the depths of winter.
Model:

Model usually wears US size 4
Height: 5'9"
Wearing size XS here
Features
Length: 34 ½"
Generous sizing
Sizes: US XS (2-4), S (4-6), M (8-10), L (12-14)
Please be aware that as shearling is a natural product, variances within the colour and texture of our outerwear is to be expected.
Reviews
Celtic Duffle Coat
Add a review
By submitting a review you confirm that you agree to our T&Cs
Sorry, something went wrong. Please try again or contact us to report this error.
Thank you for taking the time to post your review. Your review may take some time to appear in the list of reviews, as all reviews are manually checked to prevent spam.
5
Barbara Gerrish
Posted: 09 Nov 2019
I have ordered sweaters and a shearling bag from Celtic & Co., but always been afraid to order a coat, because I couldn't try it on first. But I read all the reviews and was so happy when my Duffle Coat arrived. Fits perfectly and is gorgeous. I live in the mountains and wear heavy coats all winter. This will definitely be my "go-to" coat when the temperatures drop. No need to wear a heavy sweater underneath. There were many coats to choose from but this one is great for my lifestyle. Customer service is so great with this company. I received the coat in less than a week.
5
Lucy Moran
Posted: 07 Nov 2019
I love love Love this! I've been hoping for a gift of it for 15 years but have now bought it myself!! So worth it, gorgeous in every way. I bought a small, I'm a 10-12 and there's loads of room- could have a couple of thick jumpers as well though is so cozy , I doubt I'd need them. It's an heirloom!
5
Tracy whitehead
Posted: 06 Nov 2019
This was a considered purchase for myself and I thought about it for a couple of months before finally giving in ! I'm so glad I did it's a beautiful coat I'm a size 18 and purchased the M after trying on in store it fits like a dream and is very luxurious and will last me a lifetime. I highly recommend.
5
Jan Tapper
Posted: 11 Oct 2019
Beautifully made, looks stylish and is gorgeous to wear. A real investment piece.
Loading reviews...