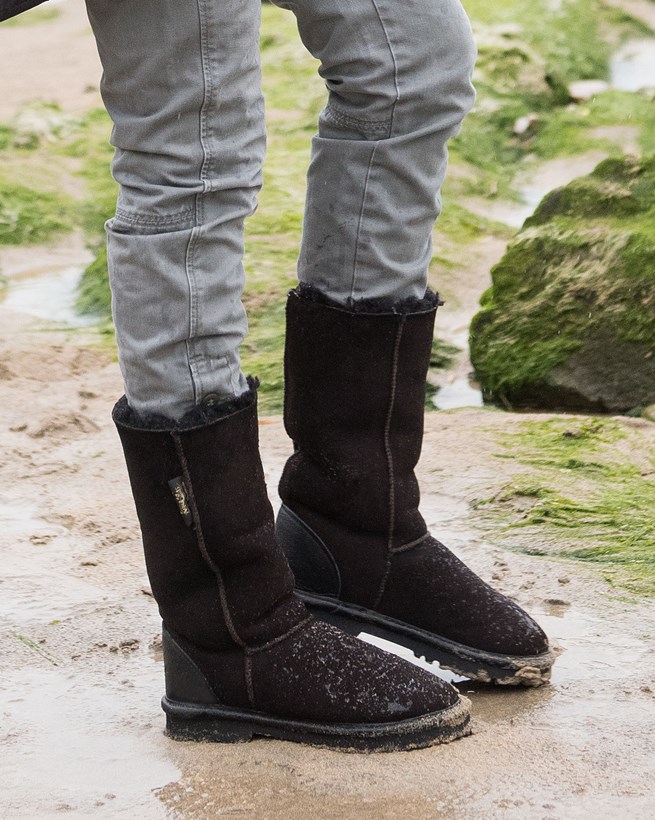 Aqualamb Boots Calf
Product Code: 2006
$310.00
Free Standard US Shipping
Price includes US duty and taxes
Free Returns on all US orders
Product Details
100% Aqualamb™ water resistant shearling
Height 11½"
Made in Britain
Sponge clean
Double-stitched construction
Leather heel patch
On wet-weather days, you can rely on our Aqualamb™ boots. Our trademarked shearling has been specially treated to deliver unbeatable water repellency to each hand-crafted pair. The rugged rubber outsole offers dependable traction underfoot, while the double-stitched construction ensures you'll be pulling this pair on for many seasons to come.
Available in dark brown for styling versatility, our Aqualamb™ boots come in regular and calf heights to suit your style.
These boots are also available in Men's.
When trying on your footwear for the first time, it may feel very tight across your toes and instep. This is nothing to worry about, as within an hour or so of wearing, the boots or slippers will loosen off as the wool starts to bed down and mould to your feet. So do not order a size bigger than you usually wear, otherwise they will end up too big for you. If you know you are a half size – then we recommend buying the size down unless you regularly buy up a half size.
Sponge clean. Celtic & Co. products are made with the highest quality craftsmanship and sourced from the finest materials available. While these materials have been treated with premium dyes, some dye transfer may occur onto light clothing or furniture – as with any deep, richly dyed material.
Reviews
Aqualamb Boots Calf
Add a review
By submitting a review you confirm that you agree to our T&Cs
Sorry, something went wrong. Please try again or contact us to report this error.
Thank you for taking the time to post your review. Your review may take some time to appear in the list of reviews, as all reviews are manually checked to prevent spam.
5
Trinidad Ball
Posted: 08 Nov 2019
Excellent service. I love the boots. Thank you.
5
Clare Curtis
Posted: 18 Mar 2019
I've just been shopping for some skinny jeans to wear with my new boots. I wore them all day and they were supremely comfortable. I did wonder if they might slip off the back of my heel when I first walked in them, but I didn't need to worry as they stayed put and I hardly noticed I was wearing them. I love that I can wear them in the rain. I've had the house boots for ten years and have just replaced a pair. It's lovely to be able to wear celts indoors and out.
5
Mrs M N Pickard
Posted: 30 Jan 2019
I've just returned from a long weekend in Rome, where I wore these boots for the first time. I knew that we would be doing a lot of walking, so took some trainers as well, but didn't need them. My new Aqualambs we're incredible; so light, warm and exquisitely comfortable that I coped with hours of sightseeing with ease. Plus, they looked so good with my skinny jeans, that I wore them in the evening a couple of times as well! They also fit true to my size. I love them!
5
Morag Sutherland
Posted: 15 Dec 2018
I received these last Christmas, and I love them. They are super comfortable and have worn very, very well. I haven't worn them for 'big' dog walks (I have a very reactive dog and need sturdy supportive footwear just in case of disaster!) but live very rurally and roads are wet and frequently muddy, they have kept me dry and cleaned up well. Thoroughly recommend these boits
Loading reviews...