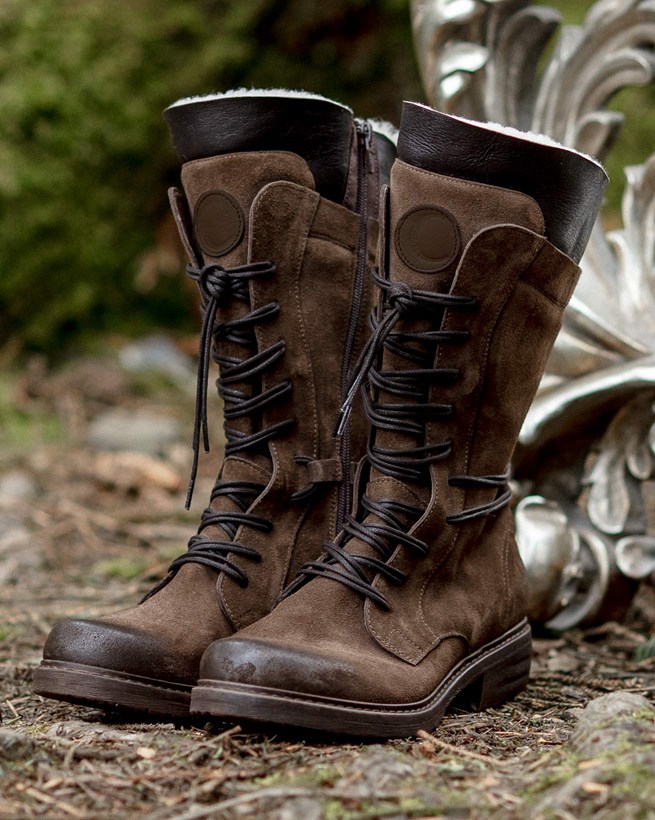 Woodsman Boots
Product Code: 6867
Free Standard US Shipping
Price includes US duty and taxes
Free Returns on all US orders
Product Details
Height: 9½" plus ½" heel
Leather upper,
Shearling trim
Made in Morocco
Gear up for adventure with your new favourite boots... Our best selling woodsman boots have gained a legion of fans thanks to their versatile styling and dependable construction.
Each pair is crafted in distressed leather and set on a hardy rubber outsole with lugs for improved grip. Spot the Celtic & Co. badge sitting proudly at the tongue, delivering a branded finish to the double-laced front.
Pull them off, secure the side zip and turn down the cuff a little to reveal the snuggly soft shearling trim that sits inside.
To keep your boots in tiptop condition and as water resistant as possible, we recommend treating them regularly with a protective spray suitable for leather and suede footwear.
Add a review
By submitting a review you confirm that you agree to our T&Cs
Sorry, something went wrong. Please try again or contact us to report this error.
Thank you for taking the time to post your review. Your review may take some time to appear in the list of reviews, as all reviews are manually checked to prevent spam.
5
Natalie Bosworth
Posted: 14 Nov 2019
I purchased these boots in brown. Having previously purchased the wilderness boots in navy I didn't think I'd be as lucky to get both pairs that fit. I have size 8 wide (flipper) feet and skinny legs/ankles but these fit me perfectly. You can adjust the laces to suit your own foot/leg comfort but then just use the zipper day to day. I always get blisters from new shoes and boots BUT not with these (or my wilderness pair!), so comfortable and look stylish. I now try to style my outfits so I can wear them! I am also aware that customer service with this company are amazing. I snapped the laces on my wilderness pair (as I've had them around 4+ years now, i think?). As it's difficult to get the correct length laces, Celtic and co sent me a replacement pair! That's my kind of company! Highly recommend x
5
Chrissie Burr
Posted: 13 Nov 2019
These boots are beautifully made and very comfortable even at the point of first trying on. Ordered my usual size and I would say very safe to do so (which can't be said for a lot of winter boots) as there is still plenty room, and comfortably so, for thick socks. I cannot praise these enough. Excellent value for money and I haven't taken them off since getting them a few days ago!
5
Abi Lawson
Posted: 12 Nov 2019
Great service, quick delivery, very comfy boots true to size, absolute smashers!
5
Liz Grainger
Posted: 08 Nov 2019
I have now bought a second pair of these boots as they are the best boots I have found, stylish, comfortable, warm and well made. So now I have a choice of colours, brown and navy, and love them both.
Loading reviews...