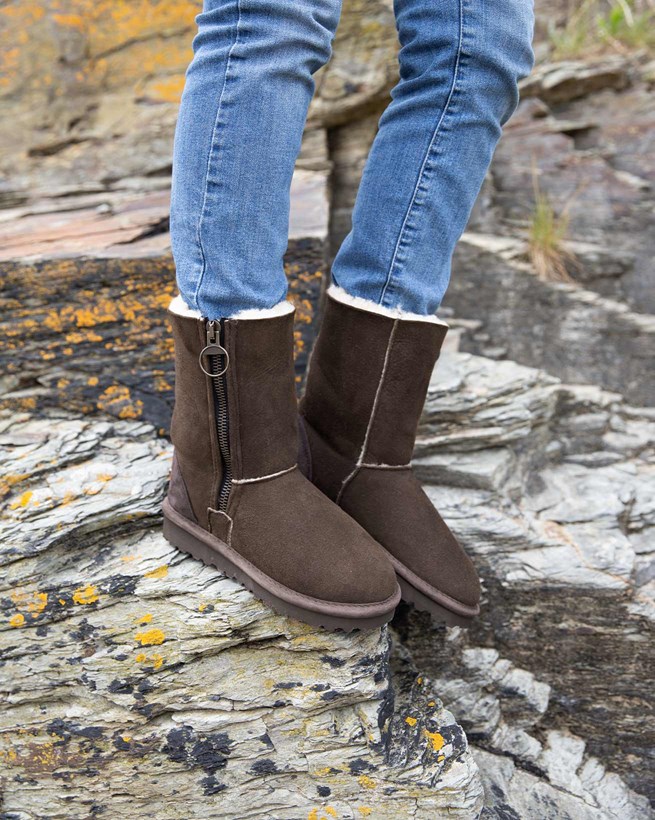 Aviator Boots - Regular
Product Code: 6612
Free Standard US Shipping
Price includes US duty and taxes
Free Returns on all US orders
Product Details
Height 8½"
100% premium quality British shearling
Double stitched seams for improved strength
Suede heel back for improved shape retention
Durable high quality sole for comfort and support
Made in Britain
Our aviator boots take everything that we love about plush shearling and add in a trend-driven edge.
Crafted in premium British shearling, these boots offer two-in-one styling: the zip with its chunky puller can be left closed or pulled down to reveal the contrast interior.
A non-slip rubber sole and branded suede heel back keep the shape of your boots protected, while double-stitched seams ensure you'll be pulling them on for a long time to come.
Explore our shortie, regular and calf sizes and pick from an array of colours to find your new favourite.
Also available in Shortie height - 5½" & in Calf height - 11½"
When trying on your footwear for the first time, it may feel very tight across your toes and instep. This is nothing to worry about, as within an hour or so of wearing, the boots or slippers will loosen off as the wool starts to bed down and mould to your feet. So do not order a size bigger than you usually wear, otherwise they will end up too big for you. If you know you are a half size – then we recommend buying the size down unless you regularly buy up a half size.
Sponge Clean
We recommend sponge cleaning with warm soapy water. Leave to dry out naturally away from heat and direct sunlight.
Celtic & Co. products are made with the highest quality craftsmanship and sourced from the finest materials available. While these materials have been treated with premium dyes, some dye transfer may occur onto light clothing or furniture – as with any deep, richly dyed material.
Reviews
Aviator Boots - Regular
Add a review
By submitting a review you confirm that you agree to our T&Cs
Sorry, something went wrong. Please try again or contact us to report this error.
Thank you for taking the time to post your review. Your review may take some time to appear in the list of reviews, as all reviews are manually checked to prevent spam.
5
Debbie Jenkins
Posted: 18 Feb 2019
I confess this is my first pair of Celtic boots as I've bought the more expensive competitor but won't bother in future. Took a few hours to bed in and now they are my go to boots in the early mornings. Lovely colour and the zip offers a versatility on style
5
Ann Brigden
Posted: 05 Jan 2019
Fabulous boots! The best pair of boots I've ever owned - so comfortable and beautifully warm. The zip gives them a real style bonus as well as making them easy to put on. Please keep making these boots forever! This pair were my first but I plan to buy many more in years to come!! And - I just love the Blue Iris colour.
5
Natalia Khazizova
Posted: 02 Jan 2019
I bought for my husband a pair of Aqualamb boots and he is very happy with them, very warm, comfortable and best quality made! He is wearing them inside and outside all the time! Thanks Celtic & Co. for great boots! A week later he bought me a pair of Aviator regular boots for Christmas but less than a week later my friend spilled some sauce on one of them. I would like to know what is the way to clean them? I am very sad about it ! I just hope I haven't ruined them!
5
Claire loretz
Posted: 21 Dec 2018
BEAUTUFUL BOOTS! Just a little different. Ordered some as Special order in my own choice of colour and they only took a week!! Please note they are snug to start but do give and mold to your foot. True to size. I Have been buying from Celtic and co for 10 years, and cannot fault their boots and service, plus they have ethics - what's not to love!
Loading reviews...