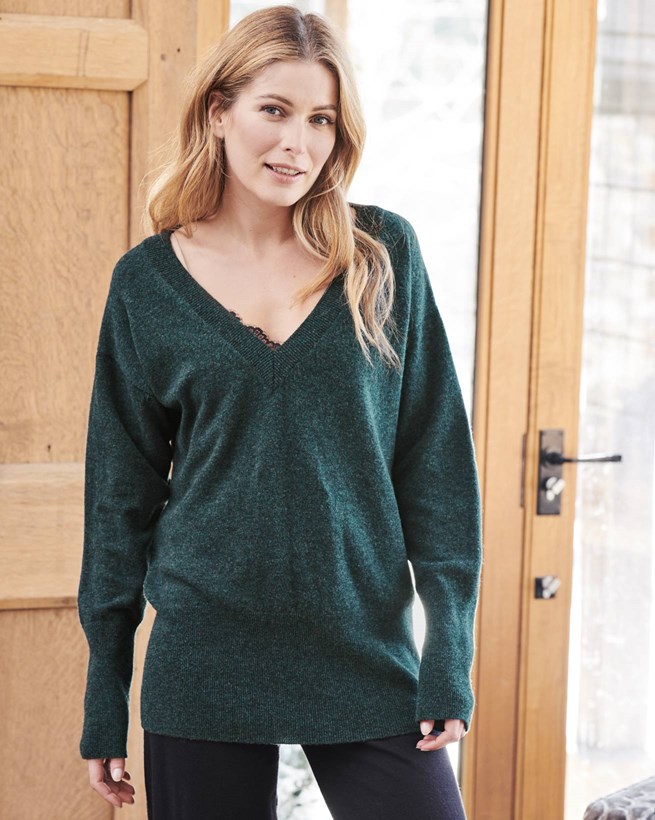 Supersoft V Sweater
Product Code: 7659
Free Standard US Shipping
Price includes US duty and taxes
Free Returns on all US orders
Product Details
• 100% Geelong wool
• Deep V neckline
• Made in Britain
• Deep ribbed hem
Transitioning effortlessly from cityscapes to countryside to rocky beaches, our super-soft V jumper is crafted in 100% Geelong yarns for a cashmere-like touch with featherlight cosiness.
The deep V neckline adds a feminine nod while lending itself to the layering trend: try it over stripes to inject a nautical vibe. Then just add your go-to jeans and toastiest boots and you're good to go. Sun's out? Pull on trusty denim cutoffs and let the Geelong wool work its temperature-regulating magic on your body.
Made with 100% Geelong Lambswool - One of the most sought-after lambswools in the world, Geelong boasts a fine softness that rivals cashmere for its sheer luxury. This 100% natural fibre is breathable and lightweight and is carefully carded as it's spun to ensure it traps air and creates that inimitable featherlight cosiness.
Model:
Model usually wears size 4
Height: 5'8"
Wearing size S
Features:
Length: 30"
Sizes: XS (2-4), S (4-6), M (8-10), L (10-14)
Reviews
Supersoft V Sweater
Add a review
By submitting a review you confirm that you agree to our T&Cs
Sorry, something went wrong. Please try again or contact us to report this error.
Thank you for taking the time to post your review. Your review may take some time to appear in the list of reviews, as all reviews are manually checked to prevent spam.
5
Maureen Rutter
Posted: 28 Oct 2019
Lovely soft sweater. Sizing quite generous, great length. Deep rib very flattering.
5
Sarah Bulman
Posted: 15 Oct 2019
Another lovely jumper, gorgeous colour (olive). It will be getting a lot of use Not as thick as last years
Hi Sarah, Thank you for your lovely review, the Supersoft V Jumper has been developed from the feedback we received on the thicker Easy V Neck Jumper. Hope this explains the difference in thickness. Kind regards, Rebecca
5
Sharron Taylor
Posted: 11 Oct 2019
Love it - its so difficult to find a jumper that sits on your hips and has a V neck - ordered the colour block - fits perfectly.
5
Miranda Shaw
Posted: 09 Oct 2019
This Jersey is gorgeous. I wish they did them in more colours!
Loading reviews...