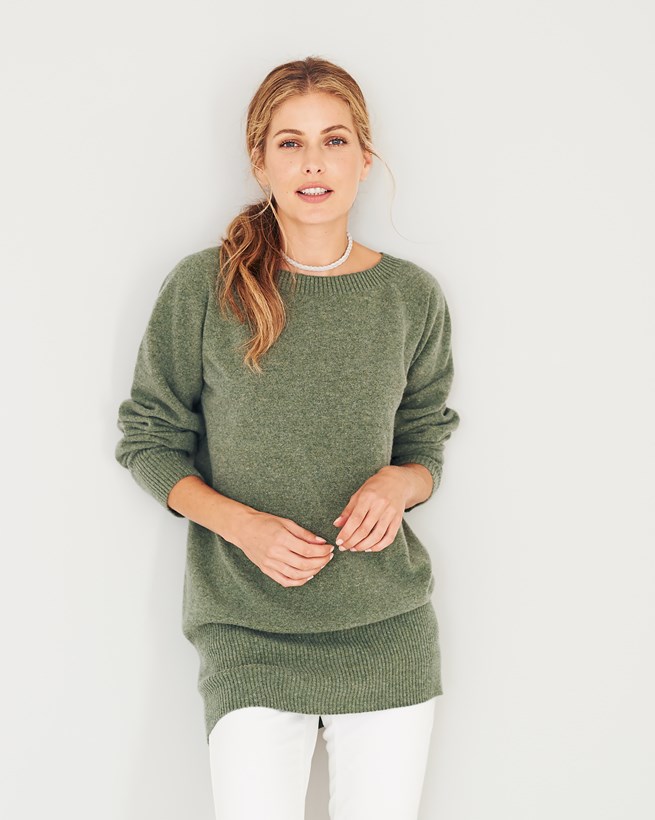 Supersoft Slouch Sweater
Product Code: 6344
Size Guide Choose size: Medium (10 items in stock)
Colour choice: Moss Size choice:Medium Price:$180.00
Free Standard US Shipping
Price includes US duty and taxes
Free Returns on all US orders
Product Details
• 100% Geelong wool
• Bestselling piece
• Relaxed fit
• Deep ribbing at the hips and cuffs
• Made in Britain
Back yet again by popular demand, our super-soft slouch sweater retains must-have status with our customers, year on year.
The relaxed fit is pulled together by deep ribbing that hugs at the hips, balancing this piece's laid-back-luxe vibes with a shape that's effortlessly feminine.
We're loving it over our stretch leather leggings this season, especially with a pair of rugged lace-up boots and chunky socks.
Made with 100% Geelong Lambswool - One of the most sought-after lambswools in the world, Geelong boasts a fine softness that rivals cashmere for its sheer luxury. This 100% natural fibre is breathable and lightweight and is carefully carded as it's spun to ensure it traps air and creates that inimitable featherlight cosiness.
Model:

Model usually wears US size 4
Height: 5'8"
Wearing size XS here
Features:
Length: 29½"
Sizes: US XS (2–4), S (4–6), M (8–10), L (12–14)
Reviews
Supersoft Slouch Sweater
Add a review
By submitting a review you confirm that you agree to our T&Cs
Sorry, something went wrong. Please try again or contact us to report this error.
Thank you for taking the time to post your review. Your review may take some time to appear in the list of reviews, as all reviews are manually checked to prevent spam.
5
Jane johnston
Posted: 14 Oct 2019
Thanks Amanda we're obv the same size and I've always bought M too, but I've never been happy with my V neck version and couldn't figure out why. I bought a S and it's perfect.... problem solved, doubly happy as it's years since I've been a S... perfect jumper.
5
Eileen mann
Posted: 14 Oct 2019
Lovely jumper. Flattering, fits well and always good quality.
5
B Wilson
Posted: 14 Oct 2019
This is a very soft snug and beautiful jumper. I chose the Swansdown colour which is slightly creamier than in the photo but lovely for my complexion. It just feels dreamy on!
5
Linda Pike
Posted: 08 Oct 2019
Bought this jumper in moss green and colour block navy and camel .Lovely soft wool good quality but fairly expensive.The neck is a little on the big side,bought the 16 to 18.
Loading reviews...