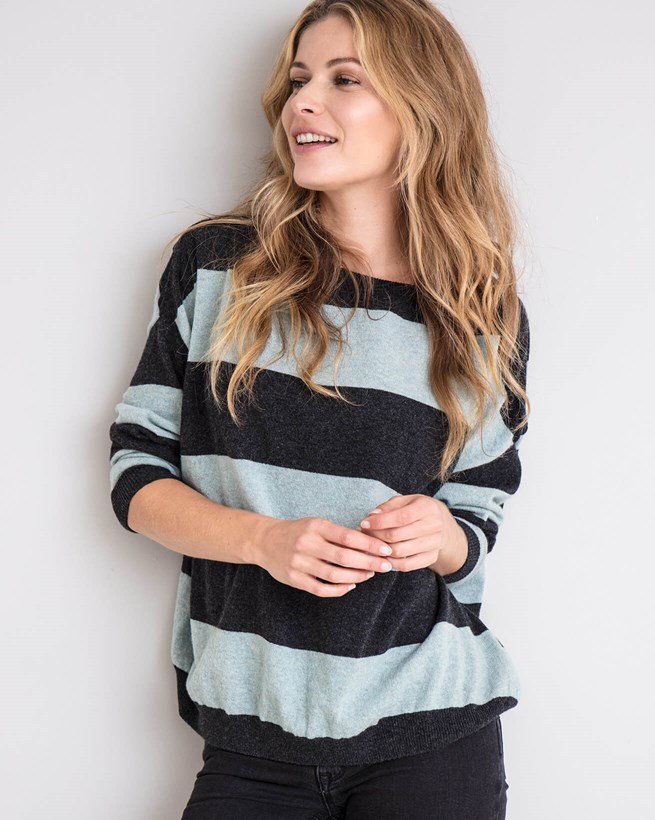 Stripe Boxy Sweater
Product Code: 7559
Free Standard US Shipping
Price includes US duty and taxes
Free Returns on all US orders
Product Details
We've updated one of our favourite sweater from previous collections to bring you a new version of our Stripe Boxy Sweater in a neater fit. Crafted in Great Britain from supersoft Geelong lambswool in a classic colour combination, with a flattering wide neck and bracelet length sleeves.
Made with 100% Geelong Lambswool - Geelong wool has specially spun fibres which trap more air making it fabulously warm whilst being very lightweight. It is also lovely and soft against the skin.
Length: 24"
Made in Britain
Hand wash
Sizes: XS (2-4), S (4-6), M (8-10), L (12-14)
Model:
Model usually wears US size 4
Height: 5'8"
Wearing US size small here
Model:
Model usually wears UK size 8
Height: 5'8"
Wearing UK size small here
Features:
Length: 60.5 cm
Sizes: S (8–10), M (12–14), L (16–18)
Reviews
Stripe Boxy Sweater
Add a review
By submitting a review you confirm that you agree to our T&Cs
Sorry, something went wrong. Please try again or contact us to report this error.
Thank you for taking the time to post your review. Your review may take some time to appear in the list of reviews, as all reviews are manually checked to prevent spam.
4
pamela moffatt
Posted: 13 Feb 2019
I have a mixed review about this sweater. (This is the only one I have with Celtic). Its beautiful and soft but short in the length and very wide, it runs big, very big, even though I am a large it is really big, I suggest size down. I am keeping it as I have taken all the label off and thrown box away. so I will have it dry cleaned like I do with all my sweaters they do shrink a little in that process
4
Val Woodhams
Posted: 13 Feb 2019
Love the jumper, very prompt delivery. Looks great with charcoal polo neck top and charcoal trousers.. Delighted with purchase.
1
Charlotte Hampel
Posted: 29 Mar 2019
The colour and the wool are lovely but this is SO boxy as to be very unflattering. It is what it says, but WAY too boxy for me, returned.
Thank you for your feedback Charlotte. We're very sorry this item didn't work out this time. If you would ever like any advice or feedback on our products in size or fit please do not hesitate to call us on 0333 400 0044 as our team are always on hand to help :)