Stitch Stripe Hem Sweater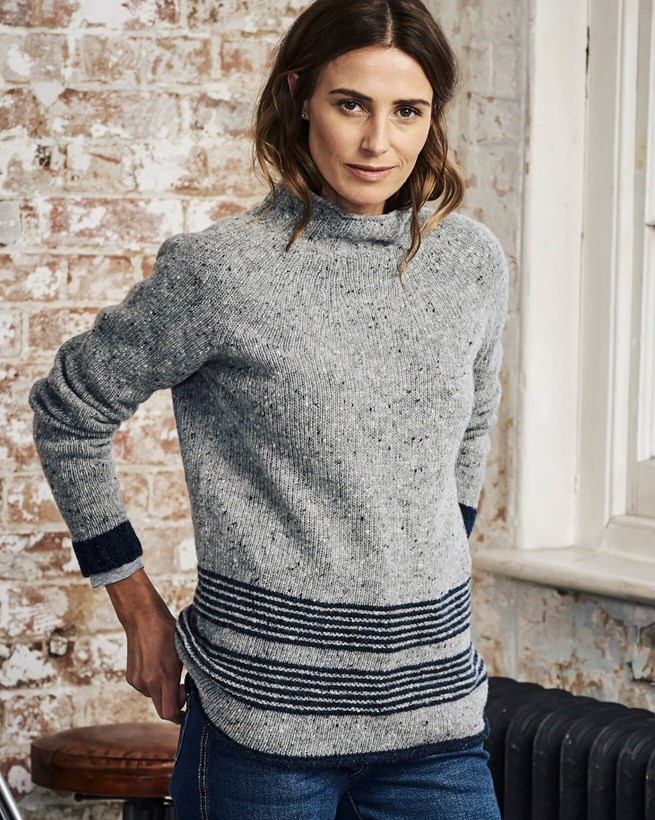 Stitch Stripe Hem Sweater
Product Code: 7465
Free Standard US Shipping
Price includes US duty and taxes
Free Returns on all US orders
Product Details
Crafted from the finest Donegal wool, this piece will last a lifetime. With subtle funnel neck and detailing on the cuffs, this is a lot more lightweight than it looks, ideal for layering between seasons.
Made with 100% Donegal Wool - Our genuine Donegal wool is renowned for its superior quality and durability. It is homespun using traditional methods, ensuring the distinctive flecks keep their appeal.
Length: 27"
Made in Europe
Hand wash
Sizes: XS (2-4), S (4-6), M (8-10), L (12-14)
Model:
Model usually wears US size 4
Height: 5'8"
Wearing size XS here
Reviews
Stitch Stripe Hem Sweater
Add a review
By submitting a review you confirm that you agree to our T&Cs
Sorry, something went wrong. Please try again or contact us to report this error.
Thank you for taking the time to post your review. Your review may take some time to appear in the list of reviews, as all reviews are manually checked to prevent spam.
5
Rosie Stanley
Posted: 23 Apr 2019
Having um'd and ah'd about investing in this jumper ( I'm a cashmere girl and don't like itch), I am delighted that it lives up to all the positive reviews. Having said that , it's arrived in the hottest week of the year so far, (!) so I haven't worn it. However, on first try I found it to be soft, not itchy at all given that the donegal wool of my childhood memory was torturous to wear. I'm amazed and can see my buying another in the autumn. I'm totally sold. I'm a busty 14 and the medium is perfect.....Thank you!
5
PAMELA MOFFATT
Posted: 27 Mar 2019
Just got my Sweater it is in Navy blue and it's beautiful . I got medium this time due to some of the comments saying it runs big. I am normally a large but medium fits perfect, even for full figured me. It is Long, soft and warm another winner from Celtic. Did I mention it smells divine . Great buy will last for years.
5
Clare Curtis
Posted: 18 Mar 2019
I love this jumper and am particularly impressed with the colour in daylight. The flecks are less obvious in artificial light, but it's still lovely. Light and warm as described in other reviews. I have yet to wear it other than for a try on. Looking forward to it's first outing. I'm a busty size 14/16 and the large fits beautifully. I love that Celtic jumpers fit well over my boobs without pulling. I usually have so much difficulty getting jumpers that fit well.
5
HERTHA KOETTNER-SMITH
Posted: 13 Feb 2019
A lovely warm, yet really light-weight dark blue sweater with sparkles of other colours & light blue. Really love it. I could have bought one size smaller, as design is generous, however, it hangs well and will be my favourite. Thank you for super quality all round.
Loading reviews...