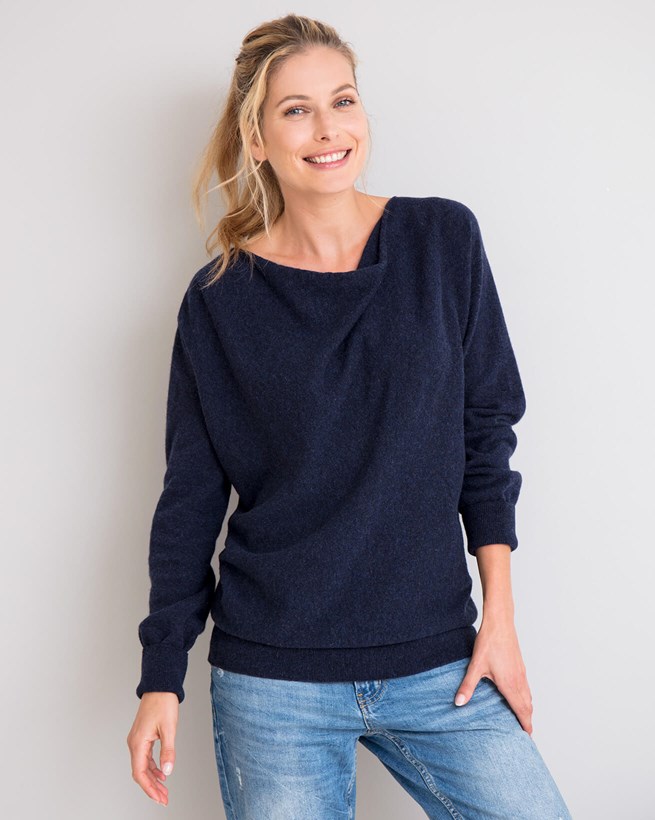 Soft Cowl Sweater
Product Code: 7217
$180.00
Free Standard US Shipping
Price includes US duty and taxes
Free Returns on all US orders
Product Details
A flattering and easygoing knit in beautifully soft Geelong lambswool. This British-made sweater is designed for a relaxed fit with an elegant drapey neckline and deep ribbed hems and cuffs. We love it with slim-leg jeans or our butter-soft leather leggings.
Made with 100% Geelong Lambswool - Geelong wool has specially spun fibres which trap more air making it fabulously warm whilst being very lightweight. It is also lovely and soft against the skin.
Length 28"
Made in Great Britain
Hand wash
Sizes: S (4-6), M (8-10), L (12-14)
Model:
Model usually wears US size 4
Height: 5'8"
Wearing size S here
Reviews
Soft Cowl Sweater
Add a review
By submitting a review you confirm that you agree to our T&Cs
Sorry, something went wrong. Please try again or contact us to report this error.
Thank you for taking the time to post your review. Your review may take some time to appear in the list of reviews, as all reviews are manually checked to prevent spam.
5
Debbie Jenkins
Posted: 18 Feb 2019
Perfect over jeans and or leggings. The cowl neck line turns it into something other then ordinary,
5
Kate McKay
Posted: 12 Feb 2019
This is my perfect jumper. It's smart and casual and so warm. I have the navy and swansdown- please get a new stock of the burgundy as I need another one!
5
Maggie Belle Herr
Posted: 11 Feb 2019
Soft Cowl Sweater ❣️ am wearing the burgundy today I just recieved this week and Love Love Love ! and ... so does spouse :-) and when gramma me gets caught up from her xmas shopping for kids I think I need to order another in the swansdown color !!! best made since my 1980's Pringle cashmere dolman style that I wore out . I have the medium but I think I will order large next time for more casual look. I am 71 yrs and have shrunk to 5"5" tall and 38/32/38.
5
Frances
Posted: 01 Feb 2019
Lovely jumper/dress. I have the one with a crew neck, but I prefer the cowl neck on this one. Great to wear and washed well.
Loading reviews...