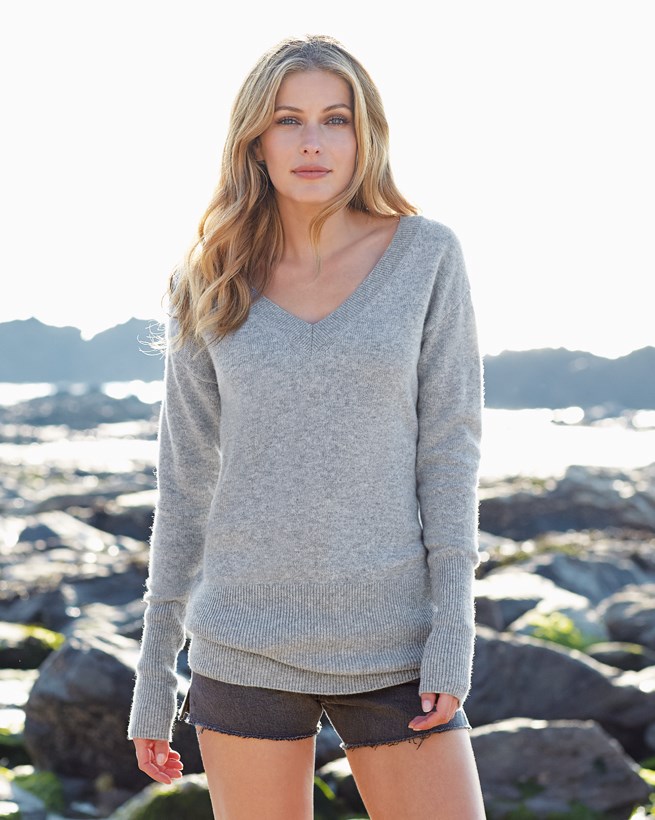 Easy V Neck Sweater
Product Code: 6863
Free Standard US Shipping
Price includes US duty and taxes
Free Returns on all US orders
Product Details
A wardrobe classic and a Celtic favourite. Knitted from pure Geelong lambswool and featuring a flattering V-neck, deep ribbed hem and long cuffs - it's a 'buy it now, wear it forever' knit.
Made with 100% Geelong Lambswool - Geelong wool has specially spun fibres which trap more air making it fabulously warm whilst being very lightweight. It is also lovely and soft against the skin.
Length: 30"
Made in Britain
Hand wash
Sizes: US XS (2-4), S (4-6), M (8-10), L (12-14)
Model:
Model usually wears US size 4
Height: 5'8"
Wearing US size S in the Skylight Tipped
Model:
Model usually wears UK size 8
Height: 5'8"
Wearing UK size S
Features:
Length: 76cm
Sizes: XS (6-8), S (8-10), M (12-14), L (16-18)
Reviews
Easy V Neck Sweater
Add a review
By submitting a review you confirm that you agree to our T&Cs
Sorry, something went wrong. Please try again or contact us to report this error.
Thank you for taking the time to post your review. Your review may take some time to appear in the list of reviews, as all reviews are manually checked to prevent spam.
5
Patricia Fagg
Posted: 25 Oct 2019
This is my fourth repeat of this jumper. It is soft and hard wearing. Doesn't easily bobble. Covers my rear end too - definitely a bonus! This one was reduced so extra good.
5
Sharon Evans
Posted: 30 Sep 2019
Beautiful - what more can I say. Fabulous quality, will be ordering another one, just need to decide what colour.
5
Jan T
Posted: 19 Sep 2019
As someone who is 5'10"/1metre78 and weighs about 11 stone/70kg, I love the extra length. The jumper reaches to my mid thighs, and the sleeves to the middle of my hands (covering my wrists) - wonderfully warm all round, not to mention soft and stylish. I shall definitely be buying more items from Celtic.
5
Catherine McNulty
Posted: 02 Jul 2019
Beautiful jumper ... thankyou
Loading reviews...