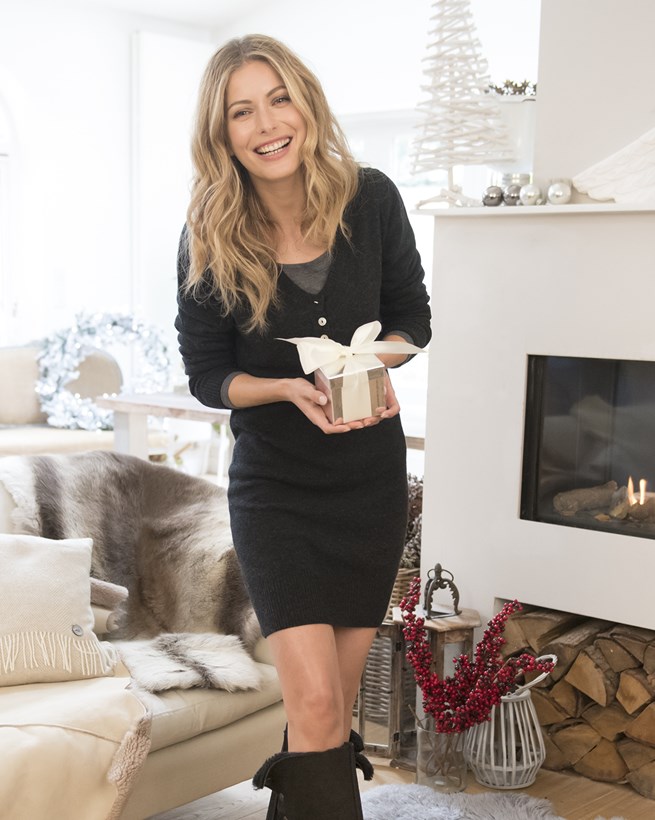 V-neck Henley Sweater Dress
Product Code: 7093
Free Standard US Shipping
Price includes US duty and taxes
Free Returns on all US orders
Product Details
• 100% Geelong wool
• V neckline
• Mother of pearl functional buttons
• Made in Europe
Draping like a dream, our V neck Henley dress offers a host of layering opportunities as well as a super-chic and effortless look all by itself. Functional mother-of-pearl buttons add a refined touch at the placket, while deep ribbing helps it to retain its shape and enhances the way it falls on the upper thigh.
The Geelong knit will help you maintain a comfy body temperature, so go bare-legged on warmer days or layer it over our Merino crew-neck when the mercury plummets. Easy day-to-evening style is a breeze when you add our leather leggings and some chic pumps. This truly is a dress that can do it all.
Made with 100% Geelong Lambswool - What's not to love about Geelong? It's super fine and soft, it traps air to keep you warm without feeling bulky and its almost gossamer fineness means even the most sensitive skin will stay happy. Buy any Geelong piece and we'll guarantee it quickly becomes your go-to, season after season.
Model:

Model usually wears US size 4
Height: 5'8"
Wearing US size S here
Features:
Length: 35 ½"
Sizes: S XS (2–4), S (4–6), M (8–10), L (12–14)
Reviews
V-neck Henley Sweater Dress
Add a review
By submitting a review you confirm that you agree to our T&Cs
Sorry, something went wrong. Please try again or contact us to report this error.
Thank you for taking the time to post your review. Your review may take some time to appear in the list of reviews, as all reviews are manually checked to prevent spam.
5
Tina Peers
Posted: 10 Aug 2019
Gorgeous! Soft, lovely colour-I know that I will love wearing this. Now want one in burgundy!
5
Caroline F
Posted: 15 Feb 2019
Such a gorgeous dress... soft and warm, easy to wear and flattering. I have one in charcoal and daughter has the wine colour. Please can we have more colours as we would both like a second dress but we don't want to have the same colour!
5
Susan Cleveland
Posted: 15 Dec 2018
I ordered a small charcoal dress but the fit was closer than I wanted. To my delight someone has returned a medium in the wine colour ... and I've ordered that as a replacement... it's the colour I originally wanted so I'm really pleased. I'm a 10 to 12 and I have a Small Slouch dress which fits really well. This style is more clingy and in line with many others I therefore find this style too small in Small. I am eagerly awaiting my new dress and am very grateful to whoever returned it so I could have it! I love all my Celtic knitwear and it's perfect for this cold weather
5
Lizzie brett
Posted: 04 Dec 2018
Bought this dress for work but love it so much that I have worn it out as well. I wear with thick tights and ankle boots
Loading reviews...