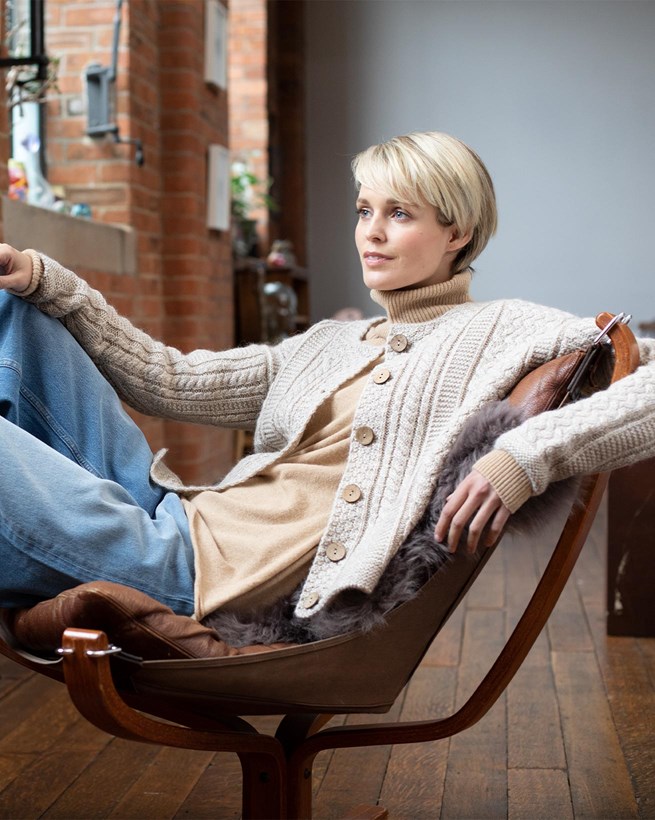 Cable Cardi
Product Code: 7237
Free Standard US Shipping
Price includes US duty and taxes
Free Returns on all US orders
Product Details
• 100% Merino wool
• Vertical cable pattern
• Coconut buttons
• Made in Europe
Perfected over the years; loved by everyone. Every single time we respin our cable cardi in a fresh seasonal hue, it's an instant hit with our customers.
The 100% Merino construction combines with a chunky, intricate knit, coconut buttons and an effortless shape with slightly dropped shoulders to create a piece that adds relaxed charm to any ensemble.
Layer it over stripes, add light-wash denim and finish with shearling boots with a turndown cuff for an easy look that has you more than covered in cold snaps.
Made with 100% Merino Lambswool - Unbelievably soft with its super-fine silkiness, Merino wool is a hero yarn for so many reasons. This natural fibre is able to breathe equally effectively in both warm and cold conditions, creating an efficient microclimate around your body for ultimate comfort, whatever the weather.
Model:
Model usually wears US size 4
Height: 5'8"
Wearing size extra small here
Features:
Length 23"
Sizes: XS (2-4), S (4-6), M (8-10), L (12-14)
Add a review
By submitting a review you confirm that you agree to our T&Cs
Sorry, something went wrong. Please try again or contact us to report this error.
Thank you for taking the time to post your review. Your review may take some time to appear in the list of reviews, as all reviews are manually checked to prevent spam.
5
Susan Johnson
Posted: 20 Aug 2019
I was very happy with my lovely cardigan but although it said 100 percent merino wool in the description, it didn't actually say merino wool on the label attached to the garment, just 100 percent wool.
Dear Susan, The label within the garment is a care label designed to cover a range of 100% woollen garments, I can confirm that the Cable Cardi is 100% Merino Wool. Please do not hesitate to contact our Customer Service Team is you have any further queries. Kindest regards, Celtic & Co.
5
Anne Elliott
Posted: 16 Aug 2019
My cardigan is beautifully soft and warm, and I can wear it with so many outfits. I am very pleased with it, as with all my other Celtic purchases.
5
Mrs Sally Frt
Posted: 15 Jul 2019
Great quality cardi. Went for the Oatmeal colour and am delighted. Bought a smaller size than usual which was the right decision. A useful garment for chilly Summer evenings and an excellent addition to the wardrobe for the Winter.
5
Deborah Stevenson
Posted: 05 Jul 2019
I have been waiting a very long time for a cable cardigan in BROWN size XS PLEASE
Thank you for your comments on the Cable Cardi. Sadly we will not be producing any more of the Cardi in the Brown colourway, we are sorry that you have waited a long time for this. We do have our new season launch coming soon and there could be new colours introduced to the collection.
Loading reviews...