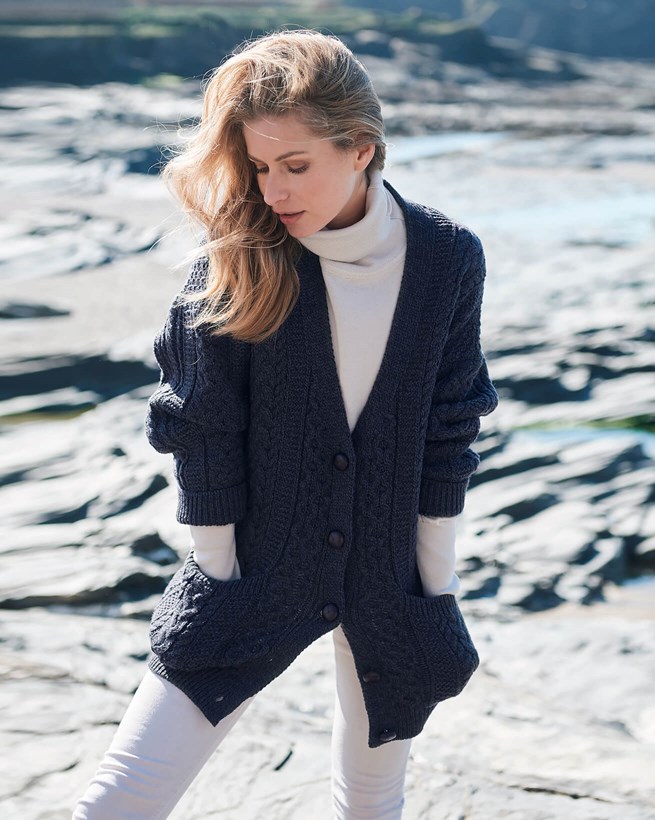 Cable Boyfriend Cardi
Product Code: 6153
Free Standard US Shipping
Price includes US duty and taxes
Free Returns on all US orders
Product Details
100% Merino wool
Made in Europe
Football buttons
Relaxed fit
Cut to a relaxed fit for throw-it-on appeal, the cable boyfriend cardi takes a classic menswear piece and respins it with an intricate cable structure in super-soft Merino wool for a touch of femininity.
Leather football buttons add a hint of heritage charm to this thoroughly modern layer, while deep front pockets provide a cosy home for chilly hands.
Opt for luxe layering with lounge pants and a super-fine sweater for lazy-day comfort that's worth staying in for.
Made with 100% Merino Lambswool - Unbelievably soft with its super-fine silkiness, Merino wool is a hero yarn for so many reasons. This natural fibre is able to breathe equally effectively in both warm and cold conditions, creating an efficient microclimate around your body for ultimate comfort, whatever the weather.
Model:
Model usually wears US size 4
Height: 5'8"
Wearing size S here
Features:
Length: 32 ½"
Sizes: XS (2-4),S (4–6), M (8–10), L (12–14)
Reviews
Cable Boyfriend Cardi
Add a review
By submitting a review you confirm that you agree to our T&Cs
Sorry, something went wrong. Please try again or contact us to report this error.
Thank you for taking the time to post your review. Your review may take some time to appear in the list of reviews, as all reviews are manually checked to prevent spam.
5
Heather Wilson
Posted: 04 Jun 2019
Wonderful cardigan will be ordering more !
5
Olga West
Posted: 08 May 2019
Gorgeous cardi - exactly what it says on the tin! At 5'5" and a size 12/14 - dependent on fit I went for a medium. For me the fit is perfect a nice loose fit, but when buttoned you can see that there is tailoring too - I do however have a broad back & 'square shoulders' - but remember it is a boyfriend cardigan - that is the look that is achieved. Parchment was my colour of choice - very versatile it mixes and matches with so much and the quality of the wool and the lovely patterning is excellent.
5
Linda Brown
Posted: 25 Mar 2019
I absolutely love this cardigan,I am a cold mortal ,so it is perfect .wool is soft and warm and cosy .I am 5ft 4in and 8st10 lb and the XS is a great fit .I like the longer length ,It's a good looking dark navy ,I like the cable .Good with Jeans .or to cosy up in .I might never take it off again !
5
Jacqueline Kerr
Posted: 23 Jan 2019
Such a lovely cardigan, the grey has a slight fleck which adds to the texture. The cable pattern is wonderful and it's snuggly warm. As to sizing, it took three attempts to get the right fit. I'm 5' 2" a pretty regular 12 and ordered M initially, but it was huge. Size S was better but I still looked swamped. Ordered XS out of desperation thinking I'd never fasten it, but it's great. Still a generous fit and it's relaxed the more I've worn it. Overall, very pleased, thank goodness for such efficient Customer Service, but I'm not sure what size I would try for a different item next time.
Loading reviews...