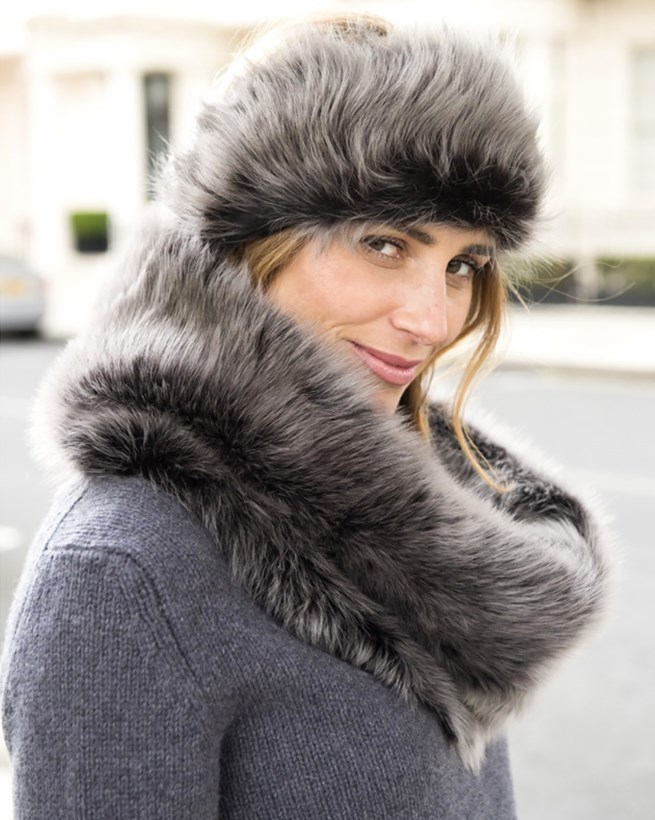 Toscana Headband
Product Code: 6237
Choose size: 1 Size Only (More than 10 in stock)
Colour choice: Ebony Snow Tip Size choice:1 Size Only Price:$95.00
Free Standard US Shipping
Price includes US duty and taxes
Free Returns on all US orders
Product Details
From the ski slopes to the city, a Toscana headband is the most glamorous way to keep your ears warm this Winter. The silky long wool frames and softens the face and an elasticated design ensures a comfortable fit.
100% Toscana Shearling
Made in Great Britain
One Size
Specialist Dry Clean only
Sponge Clean
We recommend sponge cleaning with warm soapy water. Leave to dry out naturally away from heat and direct sunlight.
Add a review
By submitting a review you confirm that you agree to our T&Cs
Sorry, something went wrong. Please try again or contact us to report this error.
Thank you for taking the time to post your review. Your review may take some time to appear in the list of reviews, as all reviews are manually checked to prevent spam.
5
Anne Geraldine Quickfall
Posted: 10 May 2018
Really lovely headband, can't wait for the opportunity to wear it and so glad that my husband chose the Curly Honey! I was concerned that it might feel tight, having read the other reviews, however, thankfully it fits perfectly.
5
Sarah bernard
Posted: 19 Jan 2018
This head band works for me as I have a small head and usually find hats too big. It's perfect for walking the dog on chilly mornings, it also looks glamorous.
5
Lucinda de Haan
Posted: 15 Feb 2016
Love love love it. Have had lots of great compliments. Would buy if in another colour.
5
meganO'Connell
Posted: 26 Jan 2016
in 2014 a friend bought me a Toscana headband from celtic. I have worn it since then when on my bike when the weather is cold. I have had so many compliments when wearing it and have passed your celtic name on. since then many faux fur headbands have appeared. Non of them as glamerous as your one.I am thinking of sending one to my friend in America as a special 80th birthday present. . Megan.
Loading reviews...