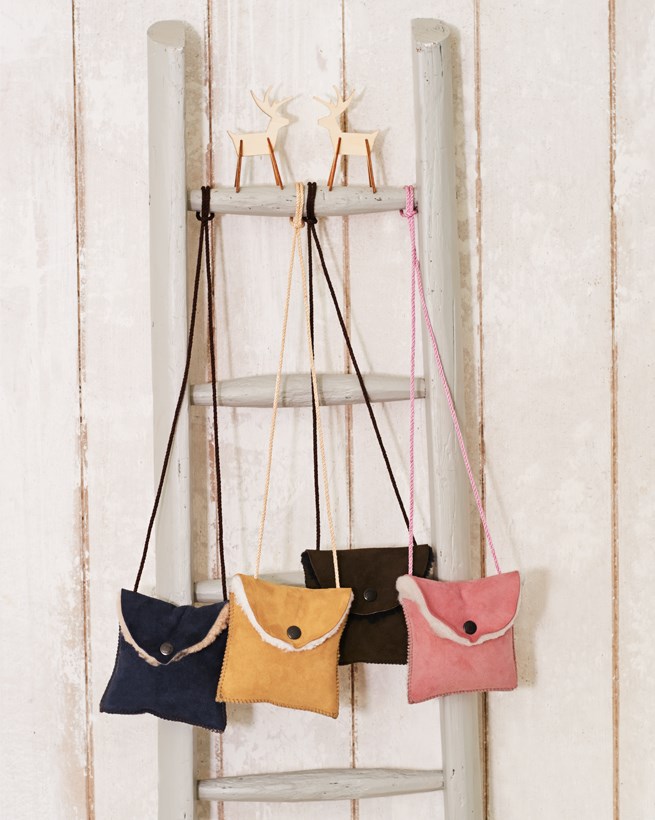 Shearling Purse
Product Code: 4222
$46.00
Choose size: 1 Size Only (More than 10 in stock)
Colour choice: Pink Size choice:1 Size Only Price:$46.00
Free Standard US Shipping
Price includes US duty and taxes
Free Returns on all US orders
Product Details
The ideal size for an outfit that doesn't have pockets, and available in a range of colours to suit any look. Our purses are also the perfect gift for any little princess. With popper fastening and cord shoulder strap, the ideal place to store hidden gems!
• Size: L14cm x W14cm
• 100% Shearling
• Machine washable
• Made in Great Britain

Add a review
By submitting a review you confirm that you agree to our T&Cs
Sorry, something went wrong. Please try again or contact us to report this error.
Thank you for taking the time to post your review. Your review may take some time to appear in the list of reviews, as all reviews are manually checked to prevent spam.
5
Emma
Posted: 15 Dec 2017
Beautifully made little bag. Perfect for children to carry their purse and a few bits and pieces or an adult to carry the basics in. The natural colours go with any outfit and looked really classy with my daughters extravagant winter party dress!!! Have one for each daughter and one for myself!
5
Lynda davies
Posted: 16 Nov 2016
Lovely little purse. I would have chosen the pink,but the spice matched granddaughter's boots,so she now has a cute set. Might still be tempted to get the pink one,though--love it.!!
5
Elizabeth Houston
Posted: 23 Dec 2015
Bought for my niece and is a perfect size for a 6 year old. Fantastic quality which I am sure will last for years.
5
Veronica Rossignol
Posted: 07 Dec 2015
Like the reviewer above says, this is an extra little Christmas present for my granddaughter. She is five years old and loves all things pink. This purse is a delightful, beautiful little item, although larger than I thought it would be. It is extremely good value for money. Such a pretty little present ...
Loading reviews...