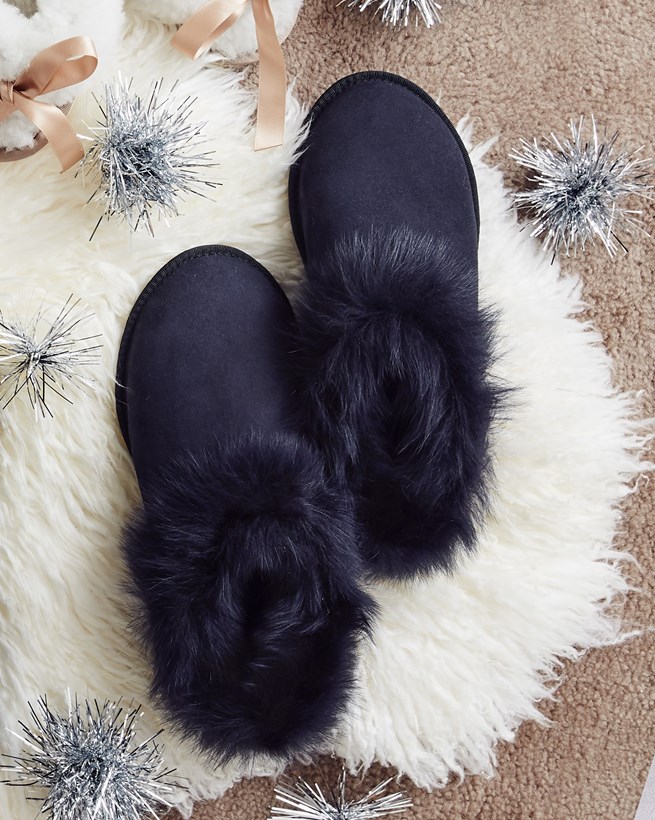 Toscana Cobi Slippers
Product Code: 6633
$120.00
Free Standard US Shipping
Price includes US duty and taxes
Free Returns on all US orders
Product Details
100% shearling
Made in Britain
Toscana Trim
Suede and rubber sole
Go all-out glam with your off-duty wardrobe by investing in our Toscana cobi slippers.
Trimmed with long, silken Toscana fur for gossamer-soft comfort, this pair is designed with a seam-free shape for minimalism. The low back gently hugs the lower heel and the soft sole provides cushioning underfoot.
Finished with elegant grosgrain trims, these slippers help you begin and end every day in laidback style.
When trying on your footwear for the first time, it may feel very tight across your toes and instep. This is nothing to worry about, as within an hour or so of wearing, the boots or slippers will loosen off as the wool starts to bed down and mould to your feet. So do not order a size bigger than you usually wear, otherwise they will end up too big for you. If you know you are a half size – then we recommend buying the size up unless you regularly buy down a half size.
Sponge Clean
We recommend sponge cleaning with warm soapy water. Leave to dry out naturally away from heat and direct sunlight.
Celtic & Co. products are made with the highest quality craftsmanship and sourced from the finest materials available. While these materials have been treated with premium dyes, some dye transfer may occur onto light clothing or furniture – as with any deep, richly dyed material.
Reviews
Toscana Cobi Slippers
Add a review
By submitting a review you confirm that you agree to our T&Cs
Sorry, something went wrong. Please try again or contact us to report this error.
Thank you for taking the time to post your review. Your review may take some time to appear in the list of reviews, as all reviews are manually checked to prevent spam.
5
Jen
Posted: 30 Sep 2019
Super
5
Brenda Wells
Posted: 29 Mar 2019
Beautiful slippers, really luxurious and the dark blue looks great. Excellent delivery too
5
Anna Woda
Posted: 23 Jan 2019
Just perfect slippers. Sooo comfy! Love them! Love the vole colour, love everything about them. :))
5
Nicola Paraskos
Posted: 21 Jan 2019
I'm absolutely loving my Toscana slippers, they're so warm and comfortable. I'd love to buy Toscana boots next winter, any plans to make them in Vole Grey?
Loading reviews...