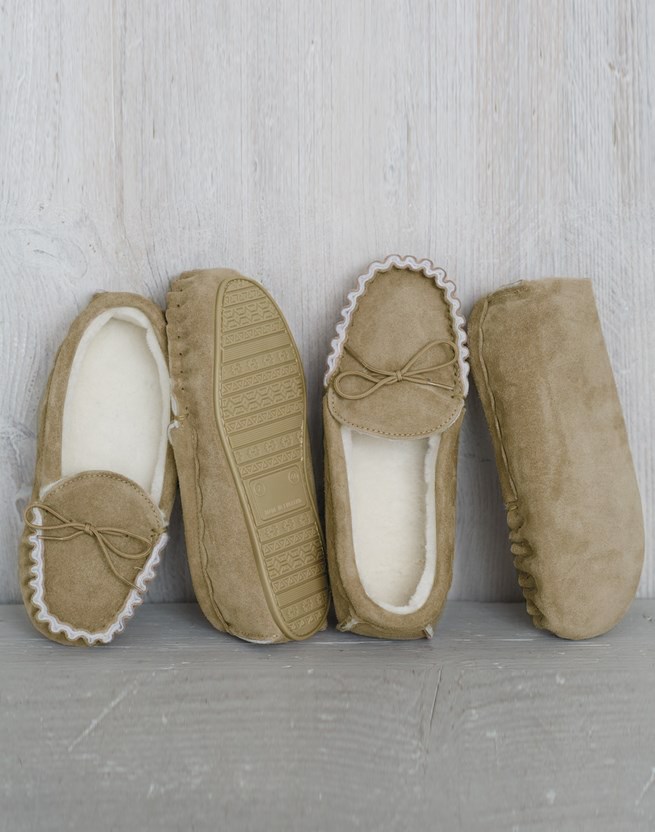 Men's Loafer Soft Sole
Product Code: 7132
$120.00
Free Standard US Shipping
Price includes US duty and taxes
Free Returns on all US orders
Product Details
A true foot-pampering pleasure to come home to, our moccasins are traditionally handmade in England. From the craftsman's selection of the finest suede to the hand-crimped edges, no machine comes close to making something so perfectly considered or so inherently special.
Choose between a rubber sole or soft suede sole. Lovingly handcrafted, these suede and shearling classics will give faithful service for many years.
We also offer a Lounger style which has a deep shearling collar.
Suede and shearling
Machine wash
Made in Britain
These are also available in Ladies sizes.
When trying on your footwear for the first time, it may feel very tight across your toes and instep. This is nothing to worry about, as within an hour or so of wearing, the boots or slippers will loosen off as the wool starts to bed down and mould to your feet. So do not order a size bigger than you usually wear, otherwise they will end up too big for you. If you know you are a half size – then we recommend buying the size down unless you regularly buy up a half size.
Celtic & Co. products are made with the highest quality craftsmanship and sourced from the finest materials available. While these materials have been treated with premium dyes, some dye transfer may occur onto light clothing or furniture – as with any deep, richly dyed material.
Reviews
Men's Loafer Soft Sole
Add a review
By submitting a review you confirm that you agree to our T&Cs
Sorry, something went wrong. Please try again or contact us to report this error.
Thank you for taking the time to post your review. Your review may take some time to appear in the list of reviews, as all reviews are manually checked to prevent spam.
5
Jules
Posted: 14 Nov 2019
As with many other customers, these are the second pair of this style slipper I have ordered for my husband over the years, which kind of says it's all really, their perfect ! Many thanks to customer service who's records told me which size I ordered last time to make sure I got the correct ones this time.
5
Brynley Meirion Morgan
Posted: 10 Jul 2019
On my second pair of loafer slippers and I shall keep buying them. They are so comfortable and the lining adapts to the foot so it fits like a glove. They are despatched in a stout box and arrive very quickly. A professional service for an excellent product.
5
Alison Courtney
Posted: 03 Jun 2019
This is the third pair of men's sheepskin loafer slippers which I have bought for my husband and once again they are of the same high quality. Good fit, very quick delivery, all good.
5
Percy William Hicks
Posted: 04 Apr 2018
Excellent service. Am "running in " the moccasins. Very nice slippers. Many thanks.
Loading reviews...