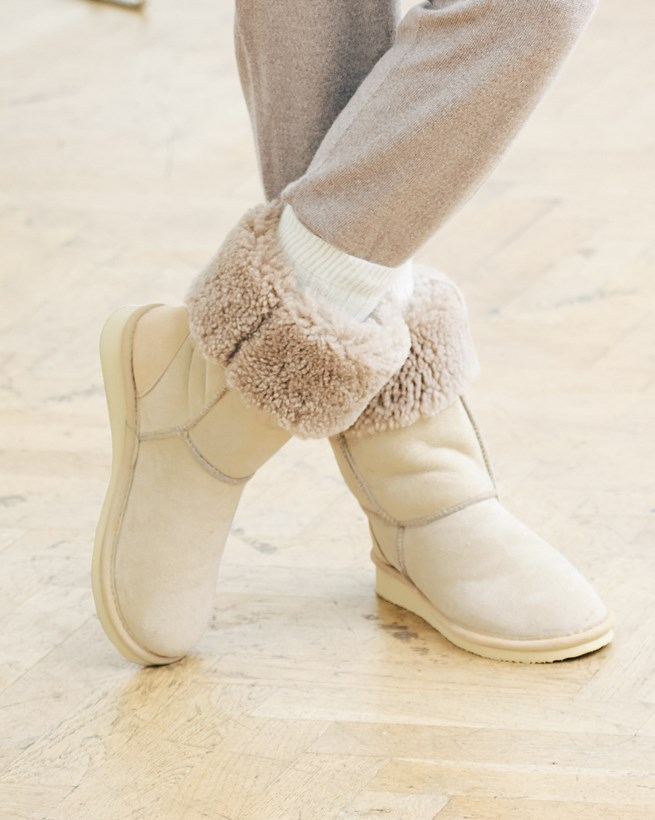 Celt House Boots - Calf
Product Code: 2031
Free Standard US Shipping
Price includes US duty and taxes
Free Returns on all US orders
Product Details
Handmade in Cornwall from pure British shearling, the Celt House Boots have all the cosy warmth and style of our outdoor boots but are specifically designed for indoor wear. The shallow tread soles are durable enough to wear outside when you need to but won't trail dirt and stones back in. They are simply styled, with double-stitched seams, and matching oatmeal heel protectors.
100% shearling
Machine washable with Celtic Wool Wash
Made in Britain
Height: 11½"
Also available in Regular height.
When trying on your footwear for the first time, it may feel very tight across your toes and instep. This is nothing to worry about, as within an hour or so of wearing, the boots or slippers will loosen off as the wool starts to bed down and mould to your feet. So do not order a size bigger than you usually wear, otherwise they will end up too big for you. If you know you are a half size – then we recommend buying the size down unless you regularly buy up a half size.
Machine Washable
We recommend that you wash boots & slippers on a maximum of 30 degree wool cycle, using ONLY Celtic Wool Wash liquid that is suitable for automatic washing machines.
Do not soak
Do not use fabric conditioner
Do not use artificial heat to dry
Do not dry directly in Sunlight
Celtic & Co. products are made with the highest quality craftsmanship and sourced from the finest materials available. While these materials have been treated with premium dyes, some dye transfer may occur onto light clothing or furniture – as with any deep, richly dyed material.
Reviews
Celt House Boots - Calf
Add a review
By submitting a review you confirm that you agree to our T&Cs
Sorry, something went wrong. Please try again or contact us to report this error.
Thank you for taking the time to post your review. Your review may take some time to appear in the list of reviews, as all reviews are manually checked to prevent spam.
5
Jenny Bowler
Posted: 02 May 2019
Nothing beats your house boots for comfort and fit. Beautifully made in Cornwall. Very quick delivery time. I've just come out of hospital and felt wobbly on my feet and my house boots gave me support. Now to make up my mind which winter boots to choose. Thank you Celtic.
5
Judi Ross-Gower
Posted: 26 Feb 2019
These boots are amazing! They arrived less than 48 hours after I ordered them and I don't live in mainland UK!! They are so comfortable and snug. They are light in colour but I also bought the special cleaning liquid for when they get grubby *****
5
Clare Curtis
Posted: 12 Feb 2019
I've just had a new pair of house boots which arrived yesterday. My old ones which I've had for over ten years need new soles. This time I went for the calf length for a change. So lovely and snuggly and a perfect fit. My feet are in heaven.
5
Sue Molton
Posted: 19 Aug 2018
These house boots are amazing, we are living in a caravan while we build our new house I just couldn't get through the winter without them, they are expensive but worth every penny, thank you, love them!
Loading reviews...