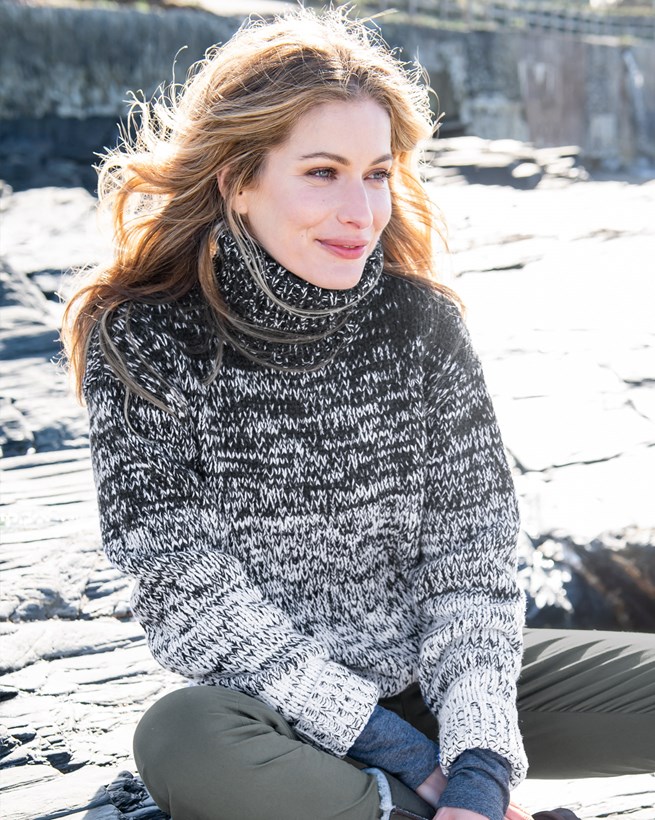 Ombre Roll Neck Sweater
Product Code: 7504
was: $255.00
now: $191.25
save 25%
Free Standard US Shipping
Price includes US duty and taxes
Free Returns on all US orders
Product Details
Nicknamed the salt & pepper sweater by our product team, this chunky knit Geelong lambswool sweater is knitted in a beautiful black and white ombre pattern. With a generous roll neck, sleeves that are long enough to be turned back and side split details.
100% Geelong lambswool
Made in Europe
Hand wash
Length: 25"
Model:
Size 4
5'8"
Wears Size Small
Reviews
Ombre Roll Neck Sweater
Add a review
By submitting a review you confirm that you agree to our T&Cs
Sorry, something went wrong. Please try again or contact us to report this error.
Thank you for taking the time to post your review. Your review may take some time to appear in the list of reviews, as all reviews are manually checked to prevent spam.
5
Kathleen McCarroll
Posted: 22 May 2019
I was very happy to find a 25" sweater. I'm only 5'0" and most of the others at 27" are way too long. I love the neck and color. But a bit too loose at the bottom. Love it though. Great for cold Micigan winters.
5
Olga Black
Posted: 12 Feb 2019
This is a very nice warm jumper. The neck is close fitting which I like. The pattern is nice and practical: I've got black and fawn dogs, so their fur of both colours is undetectable. I wear size 8-10, and size S is just fine.
5
Andrew Deacon
Posted: 01 Feb 2019
This is an excellent jumper. I bought it for my wife and the sizing was perfect. It's well made and very soft. The service was also excellent from Celtic & Co. Well recommended
5
Celia Somerton
Posted: 10 Jan 2019
So delighted with this jumper. I considered that I was spending quite a lot and found it was absolutely worth it. I usually buy size 12 and bought medium which is a perfect loose but not baggy fit. Lovely chunky feel and looks great.
Loading reviews...