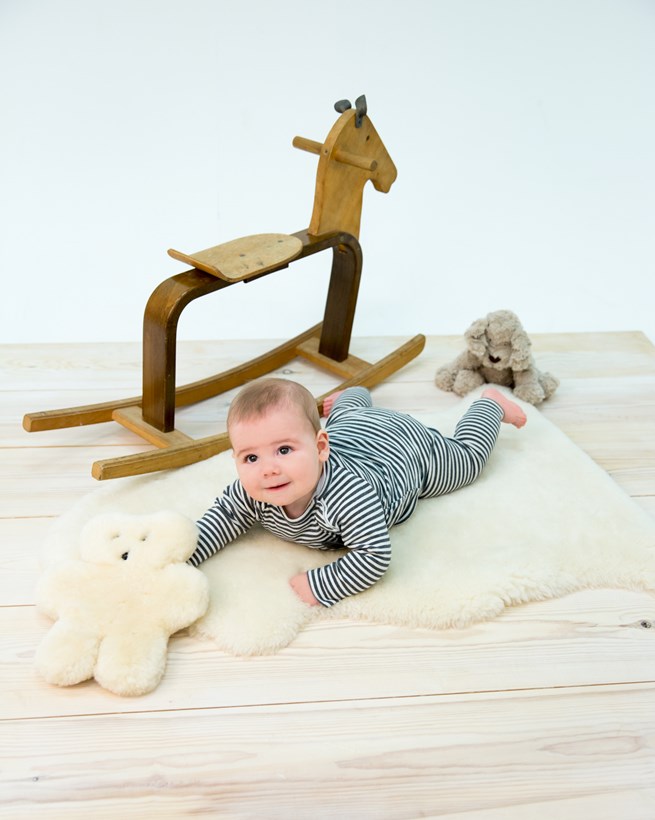 Infant Fleece
Product Code: 4610
$160.00
Choose size: 1 Size Only (More than 10 in stock)
Colour choice: Ivory Size choice:1 Size Only Price:$160.00
Free Standard US Shipping
Price includes US duty and taxes
Free Returns on all US orders
Product Details
• 100% shearling
• Machine washable with Celtic Wool Wash
• Short pile for safety
The ultimate gift to welcome a new bundle of joy, our ivory infant fleece is crafted in shearling which keeps sensitive skin cool in summer and warm in winter. Moving from cot to playpen to pram, this compact rug will soon go everywhere with any new parent.
The pile of the shearling has been shorn carefully, making it both machine washable and completely safe for little hands, too. The silky-soft feel is calming and plush, lending a generous dose of luxury to any home, especially those with wooden flooring.
Please check on the latest SIDs advice for your own peace of mind. Could a shearling rug protect babies against asthma and other allergies in later life? Read the Telegraph's interesting article now.
Add a review
By submitting a review you confirm that you agree to our T&Cs
Sorry, something went wrong. Please try again or contact us to report this error.
Thank you for taking the time to post your review. Your review may take some time to appear in the list of reviews, as all reviews are manually checked to prevent spam.
5
Celia Kemp
Posted: 15 Dec 2017
This baby fleece is simply the best!
5
Emma Williams
Posted: 28 Mar 2017
Such a lovely soft feel to this fleece and perfect for babies to play on, keeping out any chill from floors. All natural material too.
5
Elisabeth Lee
Posted: 03 Dec 2016
Beautiful fleece bought for my newest granddaughter. Think she will be really comfy whatever she uses it for. Sleeping, playing, keeping warm or cool, whatever the weather. Later when in big girls bedroom a beautiful bedside rug.
5
Mary Wylie
Posted: 24 Oct 2016
The fleece has arrived with our friends in Italy and they are thrilled with it. Now we wait for the arrival of the baby! Many thanks to Steve Hutchinson for all his help sorting out my order.
Loading reviews...