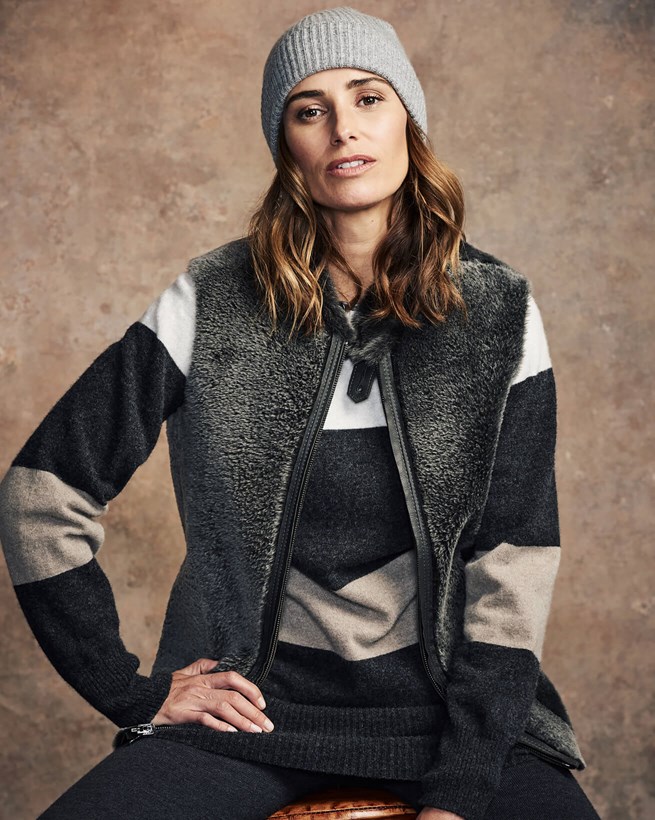 Reversible Slimline Bodywarmer
Product Code: 7503
Sold out
Free Returns and Exchanges
On all UK orders
Product Details
The perfect cut for all the seasons, we've created a new gilet using dense, supersoft wool, cut short to give a plush velvet look and feel, reversing to a butter soft coated suede side, zip fastening, stand up collar with biker neck tab detail. Ideal worn either as a stand alone piece or as a layer under a sleeved coat in the colder weather.
100% Sheepskin
Made in Europe
Specialist dry clean
Length: 62cm
Model wears size 8
Height: 5'8"
Normal clothing size:8
All our reversible sheepskin coats are graded so that they fit correctly when worn sheepskin side in, so when you reverse them, because the sheepskin is on the outside they will feel larger, if you definitely only want to wear them with the sheepskin side out – you may wish to try a smaller size.
Reviews
Reversible Slimline Bodywarmer
Add a review
By submitting a review you confirm that you agree to our T&Cs
Sorry, something went wrong. Please try again or contact us to report this error.
Thank you for taking the time to post your review. Your review may take some time to appear in the list of reviews, as all reviews are manually checked to prevent spam.
5
Nicola Footman
Posted: 28 Dec 2018
Lovely perfect for this time of year as it really finishes off your look! Both sides great so a bargain for any time away!!
3
Susie
Posted: 07 Feb 2019
Agree with other reviews. It is lovely soft leather, but quite a masculine cut with broad shoulders and slim hips. It is too tight to wear done up, but fine worn open.
Hi Susie, Thank you for your feedback which we have passed onto our product team for consideration when designing future collections. Please do not hesitate to contact us if you have any further queries.
3
Celtic Fan
Posted: 11 Sep 2018
Completely agree with Judith's review. Armholes too baggy and it was too tight on the hips. Shame as it is beautiful soft sheepskin. Will have to return it.
3
Judith Stewart Usill
Posted: 11 Sep 2018
The gilet arrived very promptly but unfortunately the cut wasn't quite right - armholes were too big and bagged although the actual waistcoat was a bit snug for me. Would have benefited from being a touch longer. The leather reverse to sheepskin was really nice and I would love to see it used in another shape. Disappointed to have to return it.
Hi Judith, thank you for your feedback which we have passed on to our product team for review for future collections and apologise that this Gilet was not suitable on this occasion.