Sheepskin Hot Water Bottle Cover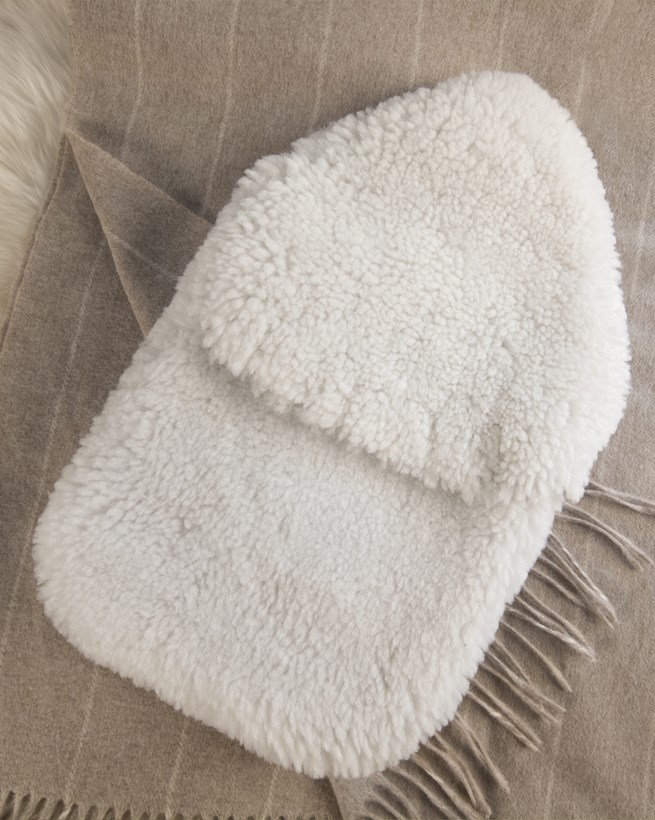 Sheepskin Hot Water Bottle Cover
Product Code: 5709
£44.00
Choose size: 1 Size Only (More than 10 in stock)
Colour choice: Ivory Size choice:1 Size Only Price:£44.00
Free Returns and Exchanges
On all UK orders
Product Details
Snuggle up and get cosy with this 100% sheepskin cover. Hand-made in our factory in Cornwall it fits a traditional hot water bottle to keep you toasty warm all Winter. (Hot water bottle not supplied)
100% sheepskin
Machine Washable with Celtic Wool Wash
Made in Great Britain
Machine Washable
We recommend that you wash boots & slippers on a maximum of 30 degree wool cycle, using ONLY Celtic Wool Wash liquid that is suitable for automatic washing machines.
Do not soak
Do not use fabric conditioner
Do not use artificial heat to dry
Do not dry directly in Sunlight
Reviews
Sheepskin Hot Water Bottle Cover
Add a review
By submitting a review you confirm that you agree to our T&Cs
Sorry, something went wrong. Please try again or contact us to report this error.
Thank you for taking the time to post your review. Your review may take some time to appear in the list of reviews, as all reviews are manually checked to prevent spam.
5
Carla Brown
Posted: 14 Feb 2019
Update! I had previously reviewed this with 4 stars as I was disappointed it didn't come with a hot water bottle. Now that i have the bottle for it and have used it it has definitely moved up to 5 stars! It stays warm for such a long time and I use it so much. Because of the thick cover it doesn't feel really hot, just a nice warmth, a bit like cuddling a small warm animal! Perfect.
5
Dee
Posted: 10 Mar 2018
Excellent quality. Large enough for 2 litre hot water bottle. Very snuggly and kept warm through the night.
5
Patricia Chapman
Posted: 20 Jan 2018
Soft and cuddly sheepskin hwb cover. Just can't believe how long the hwb stayed hot - much longer than would be thought possible! Keeps me snug all night long.
5
Beatrice
Posted: 19 Jan 2018
Lovely and warm cover, stays hot for a very long time. Excellent quality.
Loading reviews...