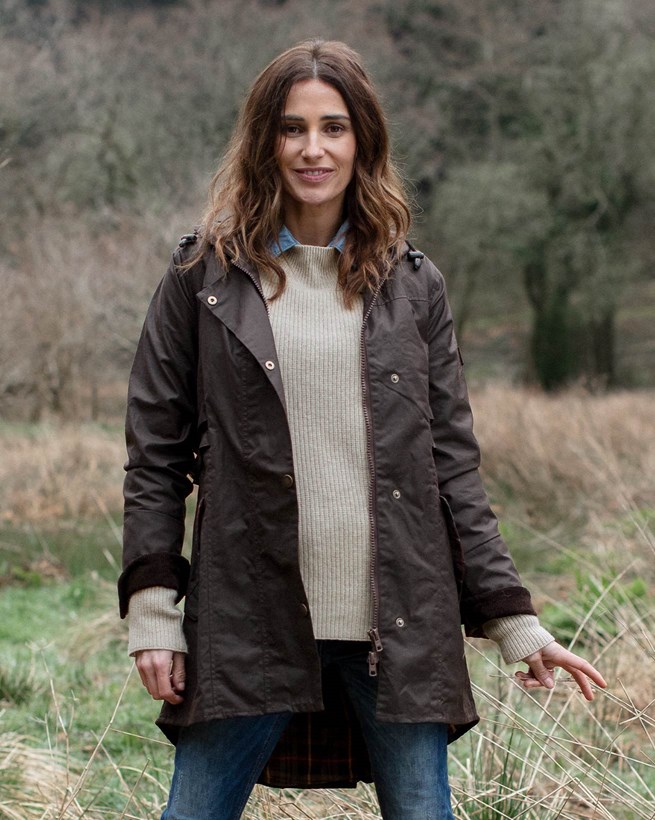 Wax Riding Coat
Product Code: 7261
Free tracked shipping to Canada
Price includes all Canadian duty and taxes
Free returns on all Canadian orders
Product Details
100% waxed cotton outer
Made in Britain
Generous fit with adjustable waist straps
Cotton-blend tartan lining
Crafted in cotton with a sturdy waxed finish, our exclusive wax riding coat is an essential ingredient in any city-to-country wardrobe.
Styled with the traditional rear pleat on a dipped hem, this coat is topped with a generous hood for go-to protection in inclement weather. Tartan lining in a cotton blend adds a super-soft touch inside, while popper straps at the side allow you to adjust it for a more fitted shape.
The two-way front zip is supplemented by poppers, creating a clean silhouette that helps to seal out driving wind and rain. Over time, the structure of this jacket will get to know your form for a fit that gets better and better with age.
100% Waxed Cotton, Classic Finish: Our waxed cotton provides a classic British style with the benefit of being comfortably lightweight. Its warmth makes it the perfect go-to for those transitional autumnal days.
Model:
Model usually wears CA size 4
Height: 5'8"
Wearing size 4 here
This garment is made from traditional wax cotton fabric which needs to be reproofed with a spray on dry wax treatment. Sponge clean.
Add a review
By submitting a review you confirm that you agree to our T&Cs
Sorry, something went wrong. Please try again or contact us to report this error.
Thank you for taking the time to post your review. Your review may take some time to appear in the list of reviews, as all reviews are manually checked to prevent spam.
5
Amanda Lewkowski
Posted: 19 Sep 2019
Squeeeee!!!!! This coat is DIVINE!!!! I struggled to decide which colour to choose as I loved all 3 options - eventually went with the navy and I LOVE it :) I'm a 10-12 but with an E-cup bust, so chose the 12 based on some reviews that suggested it was a bit snug. However, I feel I probably would have preferred the 10 as I find it quite roomy (even around the chest) - albeit, as a raincoat a larger fit is fine and I'm happy to keep the 12. I do like the ability to pull the waist in with the tabs. This coat is beautiful :) you continue to excel Celtic & Co :)
5
Janet Fritter
Posted: 22 Jul 2019
What a stunning jacket. I'm a 12/14 with 103cm bust, the M is quite a firm fit around bust (but there is still room for jumper underneath). Love the styling with the feminine shaping. In my opinion it's totally true to size for what you'd expect in a good quality brand.
5
Lesley Cruickshank
Posted: 20 May 2019
Received my coat in time for a trip to France. I love it - it's stylish and practical and I'm really pleased with it. I just hope it's not a problem when it needs re-waxing. Does Celtic provide this service?
Hi Lesley, thank you for your comments, we do not offer a re-waxing service but recommend that the coat be reproofed with a spray on dry way treatment. Please do not hesitate to contact us if you have any further queries.
5
Leah Hammer
Posted: 27 Mar 2019
This coat is beautiful, stylish and practical. Great for those cold spring and fall days, and it blocks the wind. The nipped in waist gives the coat a nice shape and the longer back is really cool. Feels tight at first but will mold to your body. Runs a little small. Love it.
Loading reviews...