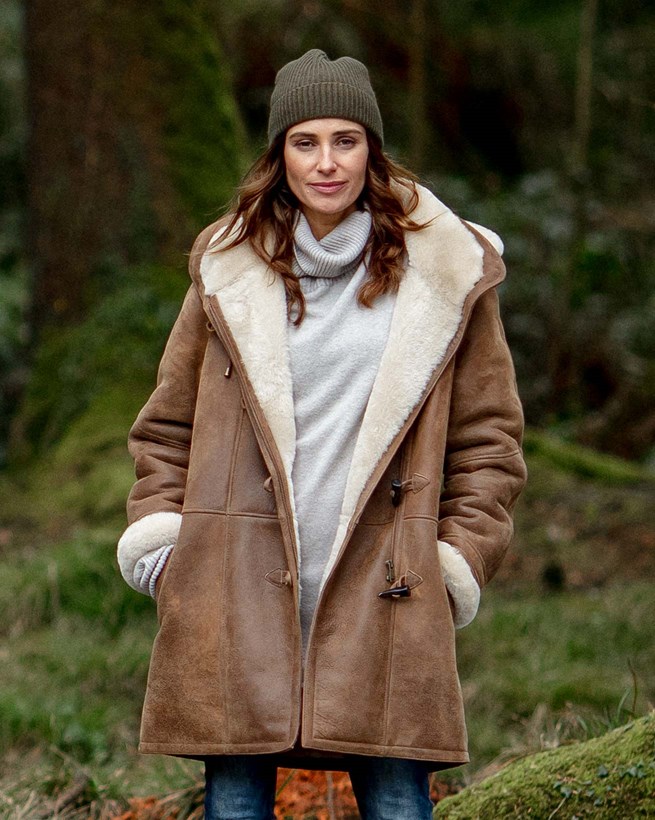 Celtic Duffle Coat
Product Code: 6026
Free tracked shipping to Canada
Price includes all Canadian duty and taxes
Free returns on all Canadian orders
Product Details
100% shearling
Made in Europe
Detachable hood
Horn toggles and asymmetric zip
Quintessentially British with a little Celtic & Co. character, our classic duffle coat is cut to a thigh-skimming length for just the right coverage. Designed with a storm fastening, horn toggles and turnback cuffs, this piece is created in super-soft shearling with a nappa finish for a luxurious feel.
The hood is generously proportioned and can be removed for total versatility, with an elegant collar underneath that can be worn up or down. Frosty days are the perfect excuse for breaking this out of the cupboard: just add seasonal denim, cosy knitwear and statement boots for a fresh spin on cool-weather dressing.
100% Shearling - Tanned with its fleece side intact, shearling brings together the sheer elegance and rich patina of leather with the unbeatable cosiness of wool. This natural insulation material helps to draw moisture away from the body and creates something of a microclimate around the body, making it just as practical on springtime evenings as it is in the depths of winter.
Model:
Model usually wears CA size 4
Height: 5'9"
Wearing size XS here
Features
Length: 34 ½"
Generous sizing
Sizes: CA XS (2-4), S (4-6), M (8-10), L (12-14)
Please be aware that as shearling is a natural product, variances within the colour and texture of our outerwear is to be expected.
Reviews
Celtic Duffle Coat
Add a review
By submitting a review you confirm that you agree to our T&Cs
Sorry, something went wrong. Please try again or contact us to report this error.
Thank you for taking the time to post your review. Your review may take some time to appear in the list of reviews, as all reviews are manually checked to prevent spam.
5
DONNA HARDY
Posted: 19 Sep 2019
Love this coat, I am size 12/14 and spoke to an advisor at Celtic & Co who advised me to buy small, which I am glad I done so, as the small fits perfectly. The coat is exactly as described and I a delighted with it.
5
Loraine Armitage
Posted: 16 Feb 2019
Bought this beauty a few weeks ago. I'm a REAL size 18, it fitted even though a little snug. I'm hoping to lose a few pounds to allow more room. The jacket is quite light, well made and very sumptuous. It's super stylish and very warm. I've had so many comments from people and it really is a show stealer. I am so proud to wear this beautiful coat, makes me smile when people give me admiring looks. A stunning edition to anyone's wardrobe.
5
Lois Hants
Posted: 01 Feb 2019
I bought this coat a few years ago and I just love it. It has served me extremely well over the ensuing winters, being comfortable and extremely warm. The removable hood is very cosy and sleeves can easily be turned back if needed. My one complaint? It's often not cold enough in London to wear it! Highly recommend.
5
Rosemary Johnson
Posted: 11 Dec 2018
Received The Celtic Duffel coat in honey brown today. My goodness it's so gorgeous I'm absolutely thrilled with it. I am 5'9" and a size 14 dress but being rather busty prefer a 16 in a coat/jacket. It's very roomy, so good to put over heavy knits. I can't wait to wear it when the real cold weather sets in. Another great purchase from Celtic that never disappoints.
Loading reviews...