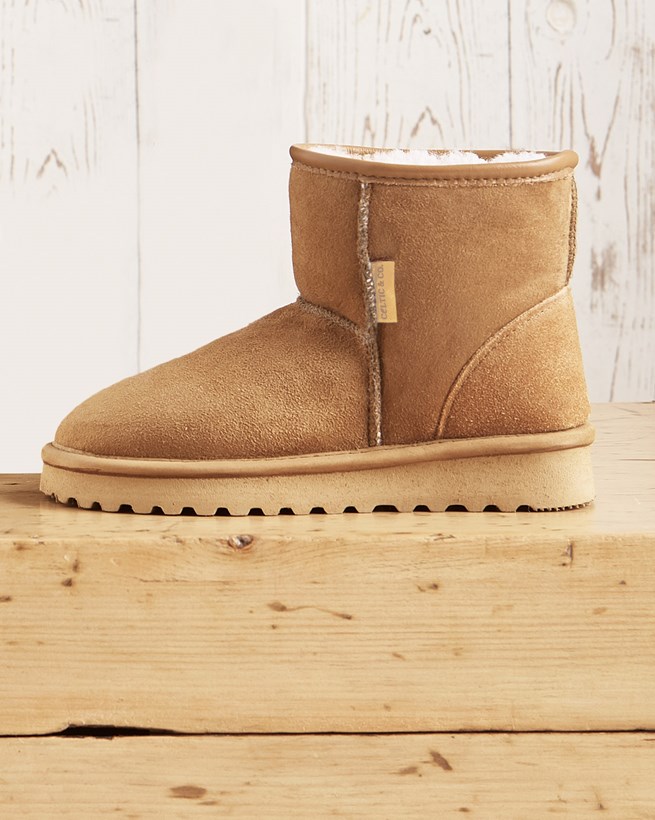 Classic Boots - Shortie
Product Code: 2037
£140.00
Free tracked shipping to Canada
Price includes all Canadian duty and taxes
Free returns on all Canadian orders
Product Details
Height 5½"
100% premium quality British shearling
Machine wash with Celtic Wool Wash
Double stitched seams for improved strength
Suede heel back for shape retention
Durable high quality sole for comfort and support
Made in Britain
We've cropped the length of our standard boot to bring you a pared-back pair that goes with everything. The shortie version of our classic boot epitomises style, resilience and cosiness with its 100% sherling construction, cloud-soft inner, double-stitched seams and leather bound edges.
Each boot sits on a tonal rubber sole that delivers a springy feeling underfoot with traction that'll stand the test of time. And the shape of your boot is crafted to last too, with a shaved-shearling heel back protecting the silhouette.
Looking for a little more coverage? This cosy pair is available in regular and calf heights too, so there's a style for everyone.
Available in:
Shortie height: 5½"
Regular height: 8½"
Calf height: 11½"
Also available in kids' sizes.

When trying on your footwear for the first time, it may feel very tight across your toes and instep. This is nothing to worry about, as within an hour or so of wearing, the boots or slippers will loosen off as the wool starts to bed down and mould to your feet. So do not order a size bigger than you usually wear, otherwise they will end up too big for you. If you know you are a half size – then we recommend buying the size down unless you regularly buy up a half size.
Machine Washable
We recommend that you wash boots & slippers on a maximum of 30 degree wool cycle, using ONLY Celtic Wool Wash liquid that is suitable for automatic washing machines.
Do not soak
Do not use fabric conditioner
Do not use artificial heat to dry
Do not dry directly in Sunlight
Celtic & Co. products are made with the highest quality craftsmanship and sourced from the finest materials available. While these materials have been treated with premium dyes, some dye transfer may occur onto light clothing or furniture – as with any deep, richly dyed material.
Reviews
Classic Boots - Shortie
Add a review
By submitting a review you confirm that you agree to our T&Cs
Sorry, something went wrong. Please try again or contact us to report this error.
Thank you for taking the time to post your review. Your review may take some time to appear in the list of reviews, as all reviews are manually checked to prevent spam.
5
Marilyn Forgan
Posted: 20 May 2019
Love these boots so much, my second pair!
5
Sue Lyon
Posted: 21 Dec 2018
Love my shortie mocca boots which I received two days ago! They are incredibly warm and the lovely, rich brown shade tones nicely with many clothes. I'm so impressed with Celtic and Co. Your customer service is slick and your clothes, extremely well made. Thank you and Merry Christmas!
5
Deborah Scarlett
Posted: 10 May 2018
I absolutely love my shortie boots and was told they would not be dispatched for two weeks but they arrive a few days later 😀happy days
5
Laura Eccott
Posted: 02 Feb 2018
So cosy! I love the shortie boots and they are a perfect fit so i no doubt will wear these post-beach when the sun starts to set as much as popping out shopping. Definitely want some knee high ones to see me through next winter as they really are so toasty warm. Thanks Celtic !
Loading reviews...