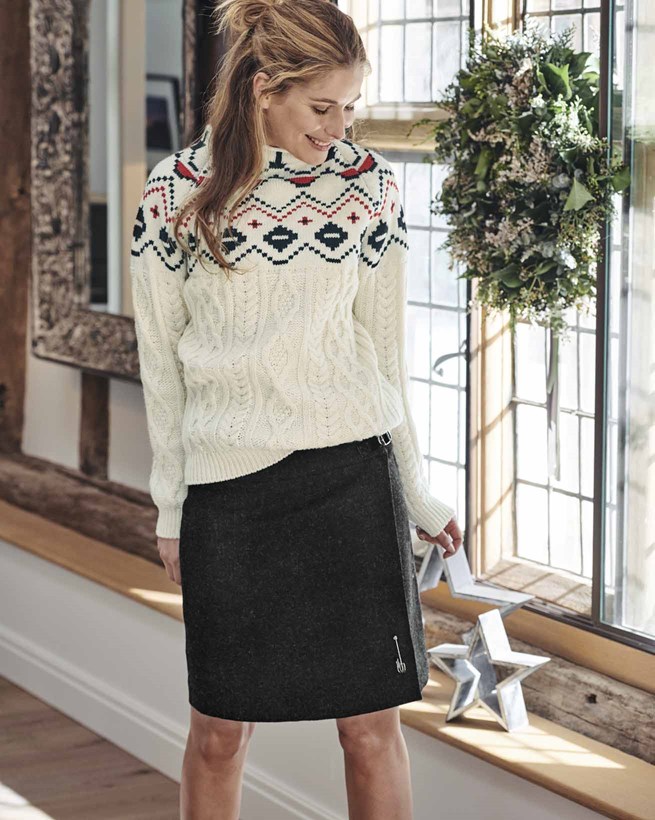 The Celt Kilt
Product Code: 7047
Free tracked shipping to Canada
Price includes all Canadian duty and taxes
Free returns on all Canadian orders
Product Details
• 100% wool
• Lining: 100% Polyester
• Crafted in Scotland
• Leather straps and riptape
• Kilt pin included
The Celt kilt presents a traditional style with a modern shape, allowing you to work a little Scottish charm into your look with contemporary influences. Meticulously crafted for Celtic & Co. by the last remaining traditional manufacturer in Scotland (who still produces kilts for the Royal Regiment of Scotland), this kilt is trimmed with twin leather straps which are supplemented by riptape for easy dressing and an adjustable fit around the waist. Full lining adds silky glide against the skin for extra comfort.
Position the kilt pin at the bottom right-hand side of the kilt, around 2-4 inches from the bottom and 1.5 inches from the edge. You'll earn Celtic heritage points and the front flap will stay neatly in place.
Model:
Model usually wears US size 4
Height: 5'8"
Wearing size 4 here
Features:
Add a review
By submitting a review you confirm that you agree to our T&Cs
Sorry, something went wrong. Please try again or contact us to report this error.
Thank you for taking the time to post your review. Your review may take some time to appear in the list of reviews, as all reviews are manually checked to prevent spam.
5
Suzanne Gross
Posted: 01 Apr 2019
Looked at this kilt so many times and finally bought it. Wish I hadn't waited so long. It's gorgeous, dying to wear it. Lovely material and perfect length.
5
Geraldine Quickfall
Posted: 09 Feb 2019
Lovely style, colours and weight. Enjoyed wearing my kilt for the first time last night and received many complements and equiries where it came from. Very pleased. I already own the navy colour option and love it too.
5
Jillian Wilson
Posted: 01 Feb 2019
I love this kilt so well made and lovely to wear. Looks great with anything. The service from this company is so professional too.
5
Yvonne Ann Hill
Posted: 04 Jan 2019
Beautiful quality kilt ! So well made , and the colours are lovely and rich ( ocean & petrel ) The wool has a really nice weight to it . So tempted to buy another colour when it is in stock ......
Loading reviews...