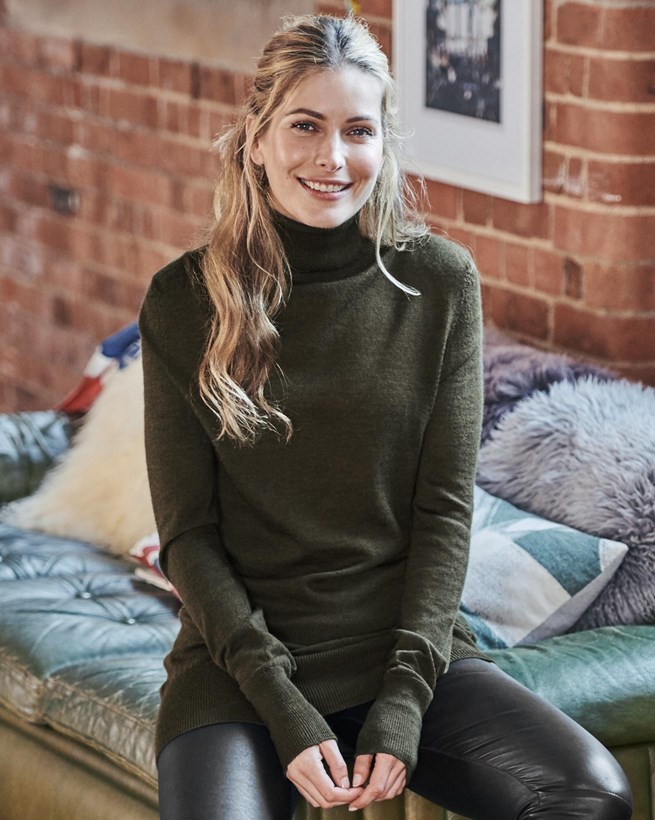 Merino Turtleneck
Product Code: 7218
Size Guide Choose size: X-Small (This item is currently being made. Placing an order today will result in it being ready to despatch in approximately 3 weeks.)
Colour choice: Olive Size choice:X-Small Price:£89.00
Free tracked shipping to Canada
Price includes all Canadian duty and taxes
Free returns on all Canadian orders
Product Details
• 100% Merino wool
• Rolled neckline
• Slim fit with deep ribbed waistband
• Made in Britain
Form-fitting style meets heavenly softness in our Merino turtleneck sweater. This versatile piece is designed to offer a slim fit with a deep-ribbed waistband that falls at the hips, making it a great option for layering. But, in our opinion, it's just perfect on its own.
Days spent out and about offer a good excuse to break out some authentic denim and lace-up biker boots. Craving a day inside? Pull this piece on with our supple leather leggings or Merino lounge pants and add some snuggly socks for unbeatable downtime luxury.
Made with 100% Merino Lambswool - Unbelievably soft with its super-fine silkiness, Merino wool is a hero yarn for so many reasons. This natural fibre is able to breathe equally effectively in both warm and cold conditions, creating an efficient microclimate around your body for ultimate comfort, whatever the weather.
Model:
Model usually wears US size 4
Height: 5'9"
Wearing size XS here
Features:
Length 26"
Sizes: XS (4-6, S (6-8), M (8-10), L (12-14)
Reviews
Merino Turtleneck
Add a review
By submitting a review you confirm that you agree to our T&Cs
Sorry, something went wrong. Please try again or contact us to report this error.
Thank you for taking the time to post your review. Your review may take some time to appear in the list of reviews, as all reviews are manually checked to prevent spam.
5
Susanne Samad
Posted: 08 Oct 2019
A beautiful jumper. Perfect fit and very good quality. I am looking forward to wearing it this winter and will definitely be buying from Celtic & Co again.
5
Olga B
Posted: 13 Aug 2019
This is a very nice jumper, I have got a few plain ones, so the colour block effect is a pleasant variety. I wear size 8-10 and XS is a perfect fit.
5
Katie Sedgmond
Posted: 26 Dec 2018
I've been looking for a roll neck jumper for a while, having bought from Celtic and Co for a few years now I knew I could trust them so invested in this beautiful jumper . It's a fine knit therefore very comfortable to wear around the neck area! Long sleeves with just the right amount of length in the body too. I am a size 10-12 and bought the size small which is a perfect fit. Love the colour. Very happy.
5
Ariuna Richards
Posted: 12 Dec 2018
I absolutely love my new jumper. I am 5"11 and fit is great with longer sleeves. Great laying in this cold weather!
Loading reviews...