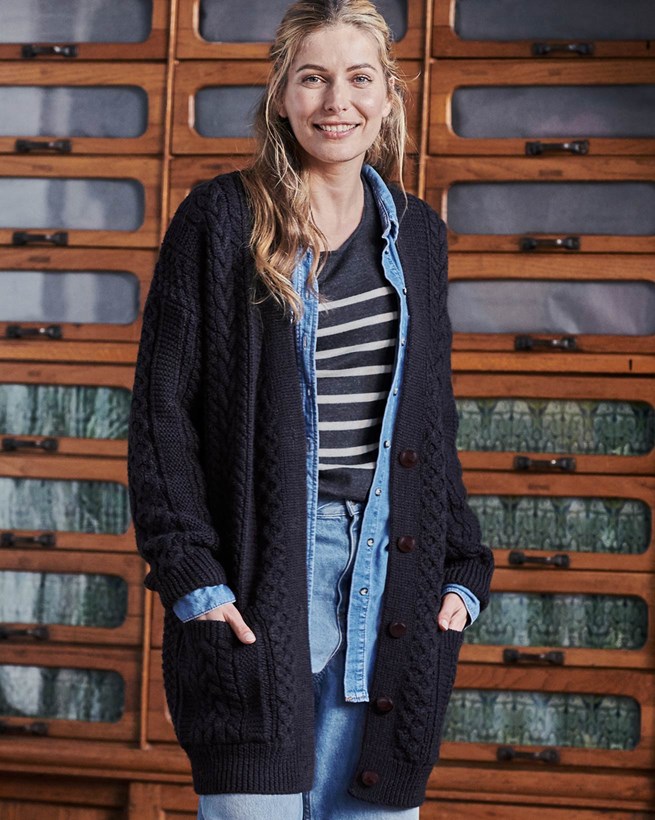 Cable Boyfriend Cardi
Product Code: 6153
Free tracked shipping to Canada
Price includes all Canadian duty and taxes
Free returns on all Canadian orders
Product Details
100% Merino wool
Made in Europe
Football buttons
Relaxed fit
Cut to a relaxed fit for throw-it-on appeal, the cable boyfriend cardi takes a classic menswear piece and respins it with an intricate cable structure in super-soft Merino wool for a touch of femininity.
Leather football buttons add a hint of heritage charm to this thoroughly modern layer, while deep front pockets provide a cosy home for chilly hands.
Opt for luxe layering with lounge pants and a super-fine sweater for lazy-day comfort that's worth staying in for.
Made with 100% Merino Lambswool - Unbelievably soft with its super-fine silkiness, Merino wool is a hero yarn for so many reasons. This natural fibre is able to breathe equally effectively in both warm and cold conditions, creating an efficient microclimate around your body for ultimate comfort, whatever the weather.
Model:
Model usually wears size 4
Height: 5'8"
Wearing size S here
Features:
Length: 32 ½"
Sizes: XS (2-4),S (4–6), M (8–10), L (12–14)
Reviews
Cable Boyfriend Cardi
Add a review
By submitting a review you confirm that you agree to our T&Cs
Sorry, something went wrong. Please try again or contact us to report this error.
Thank you for taking the time to post your review. Your review may take some time to appear in the list of reviews, as all reviews are manually checked to prevent spam.
5
Linda McKie
Posted: 05 Sep 2019
I've had my eye on this for a couple of years now, and having bought the short Cable Cardi earlier this year, and being thoroughly delighted with it, decided to treat myself. Sadly, it just did not suit me. Very good quality, soft, warm and snuggly, but I am regretfully returning it. I love the quality of your clothes, but have searched your catalogue for something I could wear, and at 5'2", the answer is unfortunately nothing. Everything is too long. I will look at the site from time to time, just in case you make anything for short women in the future.
5
Rose Moore
Posted: 29 Aug 2019
Where to start?? Well, my 93yr old mum LOVES Aran, always feels cold these days & is always saying she NEEDS a Cardi with POCKETS. This is just PERFECT! Ordered it 2.15 YESTERDAY, it's now just after 4pm & ITS HERE, JERSEY TOO!! Gorgeous Cardi but it's MASSIVE..(L) It's so big IT FITS ME & I'm 3XL!! I'm secretly absolutely DELIGHTED. Was so disappointed again to see sizes finish at L. Well, WHAT DO I DO NOW?? I'd LOVE to keep it for me, but can't afford to buy two. Hoping you will have a discount day next month so I could maybe get another for mum?? PRETTY PLEASE!!
5
Karen Coutts
Posted: 26 Aug 2019
This cardigan is absolutely lovely. Wool is soft cozy and warm. Roll on the cold weather so I can wear it! The cardigan is boyfriend style so quite a generous slouchy fit . I am a size 12/14 and a Medium size suits me perfectly. The cardigan arrived beautifully wrapped. I will definitely shop here again! Thank you 😊
5
Sue
Posted: 26 Jul 2019
This cardigan is absolutely beautiful. The quality is superb. I am 5'7" tall, size 10/12, and prefer the longer length. The fit is perfect, with plenty of room but not too baggy. I chose the navy in medium, but am considering the cream/white for later in the year. I love the summer, but I'm now looking forward to crisp autumn days when I can wear my shortie boots and boyfriend cardigan!
Loading reviews...