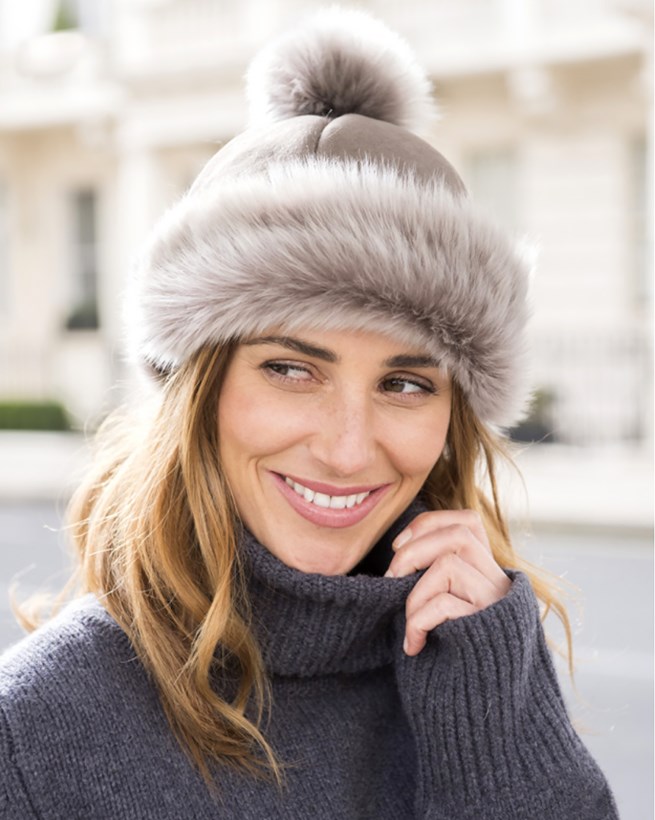 Toscana Pompom Hat
Product Code: 7315
£115.00
Choose size: 1 Size Only (More than 10 in stock)
Colour choice: Vole Size choice:1 Size Only Price:£115.00
Free tracked shipping to Canada
Price includes all Canadian duty and taxes
Free returns on all Canadian orders
Product Details
This warm and cosy hat is a playful way to wear Toscana this Winter. The silky, long-wool shearling cuff frames the face and a playful pom pom completes the look.
100% shearling
Made in Britain
One size: 57-58cms
Reviews
Toscana Pompom Hat
Add a review
By submitting a review you confirm that you agree to our T&Cs
Sorry, something went wrong. Please try again or contact us to report this error.
Thank you for taking the time to post your review. Your review may take some time to appear in the list of reviews, as all reviews are manually checked to prevent spam.
5
JANE STILLWELL
Posted: 22 Feb 2018
This is a stunning hat and very warm, the sheepskin moulds to the size of your head and it doesn't ride up. This is well worth the money and will last a lifetime. A quality item from a superb company.
5
Linda Graichen
Posted: 15 Jan 2018
I am really very pleased with my Toscana Pompom Hat which is certainly up to the very high standard I had hoped for an expect from Celtic, from whom I had made a purchase previously but not recently. They have not let me down and I thoroughly recommend them in every way, for their products, service and assistance, and have no hesitation in recommending them and their products and service in every way. I am looking forward to my next order with is already with them.
4
Sarah Shaw
Posted: 01 Feb 2019
A lovely hat but unfortunately was too small for me so have had to return.
3
Sher Schwartz
Posted: 04 Jan 2019
I have the Shearling Button Hat in medium, and I love it. I bought the Toscana Pompom Hat, and it looks stunning, but the hat is one size, and I find it is loose on my head, and also more shallow than the button hat. This means when it is cold, I must turn down the shearling, so that more covers my ears. This means the fringy is in my eyes. Because the fit is larger, I feel slightly insecure in the hat as though it might fly off. I would not recommend this hat for small-med heads. My head is 21-22 inch. Overall the quality of the hat is very good, but I am much less satisfied, because the fit is so shabby. Based on seeing other reviews who spoke of the hat fitting well, I wonder about the individual hat I got.