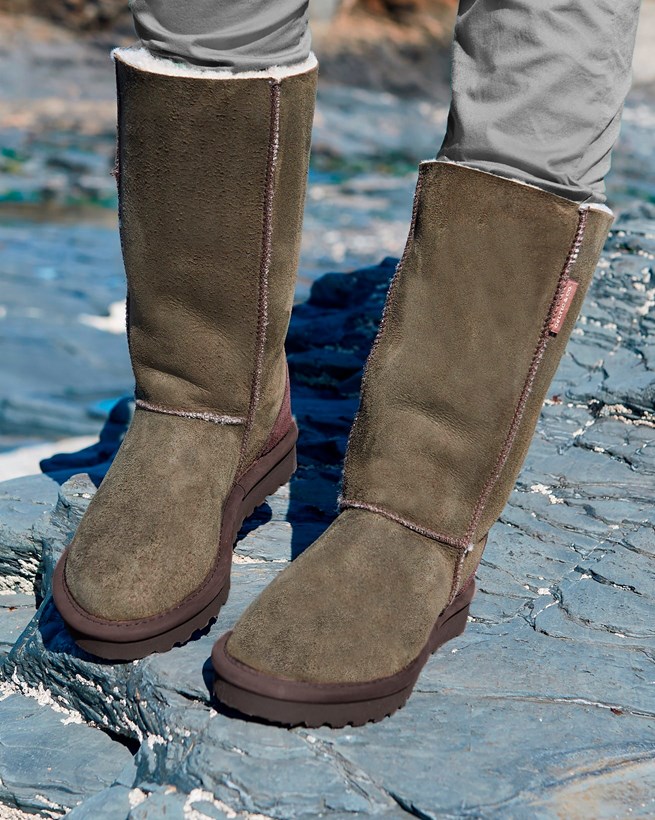 Original Celt Boots - Calf
Product Code: 2002
£165.00
Free tracked shipping to Canada
Price includes all Canadian duty and taxes
Free returns on all Canadian orders
Product Details
100% British shearling
Height: 11½"
Made in Britain
Double stitched seams for improved strength
Suede heel back for improved shape retention
Durable high quality sole for comfort and support
Ridged rubber sole
Machine Washable with Celtic Wool Wash
Our trusty shearling boots in a calf height fit: the Celt boots are a dream partner for our knit dresses on sunny days when there's still a little chill in the air.
Hand crafted right here in Cornwall from rich British sheepskin, these boots are expertly made with double-stitched seams and a durable outsole with a grip-friendly structure, delivering elegant longevity to every pair.
A branded flag seals off the premium approach of this pair, which is available in a choice of three colours to suit your personal style.
Also available in:-
Regular - 8½"
Knee - 17"
When trying on your footwear for the first time, it may feel very tight across your toes and instep. This is nothing to worry about, as within an hour or so of wearing, the boots or slippers will loosen off as the wool starts to bed down and mould to your feet. So do not order a size bigger than you usually wear, otherwise they will end up too big for you. If you know you are a half size – then we recommend buying the size down unless you regularly buy up a half size.
Machine Washable
We recommend that you wash boots & slippers on a maximum of 30 degree wool cycle, using ONLY Celtic Wool Wash liquid that is suitable for automatic washing machines.
Do not soak
Do not use fabric conditioner
Do not use artificial heat to dry
Do not dry directly in Sunlight
Celtic & Co. products are made with the highest quality craftsmanship and sourced from the finest materials available. While these materials have been treated with premium dyes, some dye transfer may occur onto light clothing or furniture – as with any deep, richly dyed material.
Reviews
Original Celt Boots - Calf
Add a review
By submitting a review you confirm that you agree to our T&Cs
Sorry, something went wrong. Please try again or contact us to report this error.
Thank you for taking the time to post your review. Your review may take some time to appear in the list of reviews, as all reviews are manually checked to prevent spam.
5
Susan Atkinson
Posted: 28 Mar 2019
Been a customer of Celtic for many years and l think this is fifth pair of calf boots l have bought; because my daughter likes them too. The boots are so warm and comfortable and look stylish, whether wearing a skirt or jeans. Excellent quality and with the protector spray, the boots should be good for years to come.
5
Karen Richards
Posted: 01 Mar 2019
Lovely boots as usual, my second pair. As well as 2 pairs of slippers, these are just slightly different and as good if not better than the last ones which are still going strong. So comfortable and good to buy british.
5
Elizabeth Simpson
Posted: 14 Nov 2018
Over the years always bought these boots. Wonderful, cosy and warm. Last pair Celtic joined a special grippy sole to fit the boots I ordered. Which I think they have now as standard. Last year I fancied a bit of bling, so I purchased in a good sale I might add, from U can Guess, a pair of bling boots. I have to say the quality of Celtics sheepskin is far superior, and the warm toasty factor is also far superior. Thanks Celtic.
5
Nadine Kingsley
Posted: 01 Nov 2018
I love my new Nanuke boots, a special order that could take five weeks but arrived in two. They look fabulous, great fit and are so comfortble I dont want to take them off. I now have five pairs of boots from Celtic sheepskin they are the only boots I ware. They always look good even coverd in mud. I call them my cuddle toes when ever I put them on its like a cuddle from an old friend or sliping into bed on clean sheets. Big thanks and a cuddle to all at Celtic xxx
Loading reviews...