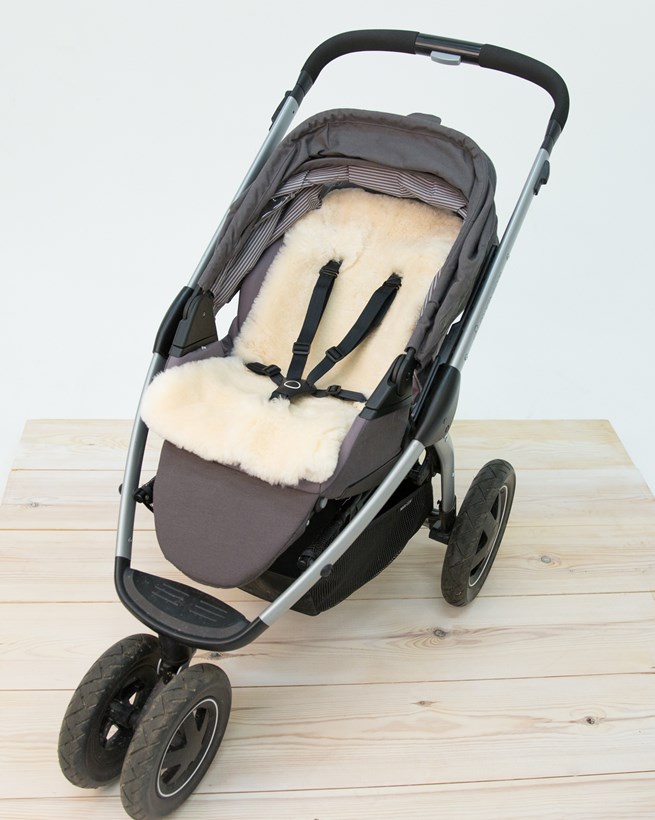 Stroller Liner
Product Code: 4611
£86.00
Choose size: 1 Size Only (More than 10 in stock)
Colour choice: Ivory Size choice:1 Size Only Price:£86.00
Free tracked shipping to Canada
Free returns on all Canadian orders
Product Details
Settle your little one into the comfort and support of pure shearling when you're on the go. Our luxurious stroller liner is made with the softest shearling, shorn to baby-safe length. It works with all pushchairs and is machine washable.
• 100% Shearling
• Machine washable with Celtic Wool Wash
• Size: 27" x 13.5" approx

Please check latest SIDs advice for your own peace of mind. Could a shearling rug protect babies against asthma and other allergies in later life? Read the Daily Mail's interesting article now

Add a review
By submitting a review you confirm that you agree to our T&Cs
Sorry, something went wrong. Please try again or contact us to report this error.
Thank you for taking the time to post your review. Your review may take some time to appear in the list of reviews, as all reviews are manually checked to prevent spam.
5
Melanie Denley
Posted: 11 Jan 2017
This is a beautiful product that has transformed my babies pushchair. It is so soft and cosy that he is always happy to go in his pushchair now and has lovely long naps! People often comment on how comfortable he looks. It was a perfect Christmas present!
Lovely to hear this Melanie! We always love to see happy customers, especially when they are our littlest fans, please send us a pic via our Facebook page :)
5
Angela Nisbet
Posted: 03 Dec 2016
This is for me to give as a Xmas present. Beautiful fine quality fleece.
5
Marie Maher
Posted: 07 Nov 2016
A lovely cosy liner that means we can take our grandson for a walk in all weathers. And he sleeps for even longer no it!
5
Jill Tuck
Posted: 28 Oct 2016
I've just purchased the pushchair liner for my new grandson, he was born on 17th October 7 weeks premature. As he's so tiny I thought I wanted to get him something really nice for when he's big enough to be out and about, I also pushed the baby sheepskin rug so I've got everything covered from his pushchair to his pram and cot. I'm delighted with the quality of the items, they are so soft to the touch, before I went ahead with my purchase I did look at other baby sheepskin items but there's simply no comparison to the quality of those I purchased from Celtic and co.
Loading reviews...