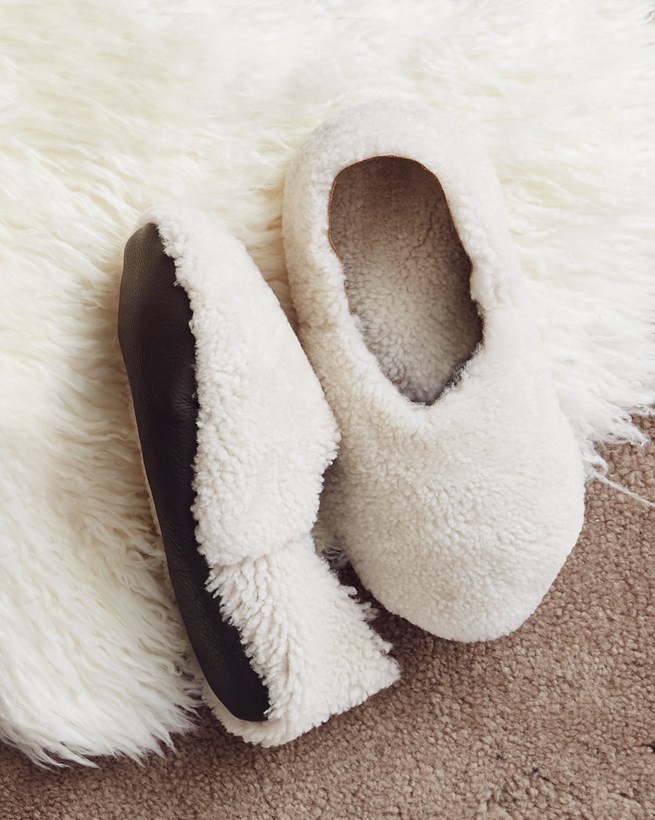 Cocoon Slippers
Product Code: 7552
£65.00
Free tracked shipping to Canada
Price includes all Canadian duty and taxes
Free returns on all Canadian orders
Product Details
Cocoon your feet in 100% british shearling with our fun new cocoon slipper. With a soft leather sole, you'll struggle to find something more flexible and cosy.
100% Shearling
Made in Britain
Machine washable with Celtic Wool Wash
Add a review
By submitting a review you confirm that you agree to our T&Cs
Sorry, something went wrong. Please try again or contact us to report this error.
Thank you for taking the time to post your review. Your review may take some time to appear in the list of reviews, as all reviews are manually checked to prevent spam.
5
AnnMarie Campbell-Smith
Posted: 29 Mar 2019
Prompt arrival and perfectly presented. More importantly they are cosy and comfortable. The advise is to allow them to settle in, which was helpful as I could feel the sole underfoot but very soon they moulded to me feet and I just love them.
5
Annette Ives
Posted: 29 Jan 2019
These cocoon slippers are perfect.I ordered a second pair for my daughter.arrived very quickly thank you.
5
Elizabeth Roberts
Posted: 15 Nov 2018
Having moved to the cold North from lovely Cornwall. I find my slippers to be warm and cosy. The cut of this slipper allows my size 9.5 feet to fit into the size 9 slipper. Perfect !
5
Jeni England
Posted: 06 Nov 2018
Very comfortable and warm slippers. Good for keeping your feet warm while relaxing!
Loading reviews...