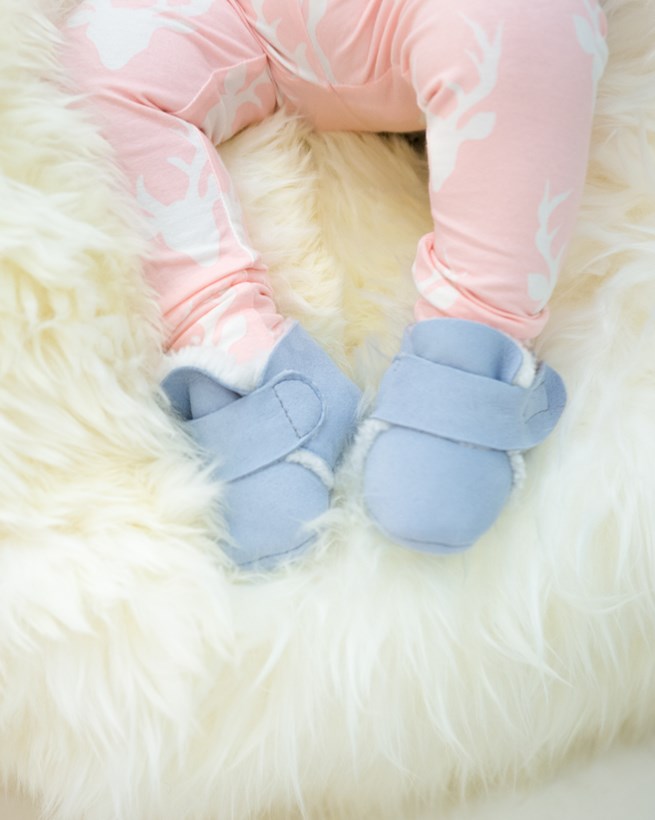 Crawler Shoes
Product Code: 7310
£25.00
Choose size: 1 Size Only (More than 10 in stock)
Colour choice: Light Blue Size choice:1 Size Only Price:£25.00
Free tracked shipping to Canada
Free returns on all Canadian orders
Product Details
Cosy shearling shoes for babies on-the-move. Our crawlers are made in Cornwall and designed to be extra soft on growing feet. Practical enough for little adventurers, they have a handy Velcro strap to stop them slipping off and are machine washable too.
One size: 6-12 months
Made in Britain
100% shearling
Machine washable
Celtic & Co. products are made with the highest quality craftsmanship and sourced from the finest materials available. While these materials have been treated with premium dyes, some dye transfer may occur onto light clothing or furniture – as with any deep, richly dyed material.
Add a review
By submitting a review you confirm that you agree to our T&Cs
Sorry, something went wrong. Please try again or contact us to report this error.
Thank you for taking the time to post your review. Your review may take some time to appear in the list of reviews, as all reviews are manually checked to prevent spam.
5
Mrs Lauren Kenyon
Posted: 24 Apr 2018
We absolutely love them, they are beautiful soft and comfy, my Grandson, and his feet look look adorable.
5
Mrs Ann Reffell
Posted: 13 Dec 2017
Well made and so cute. They look great on my granddaughters feet, my daughter in law said pity they didn't come in a larger size!! I've bought woollen and sheepskin products from yourselves for years ,admired by many, sent to my sister in law in the states it's great to support uk industry.
5
Ian Hancock
Posted: 12 Dec 2017
Very well made and supremely cosy. Bought for a 3 month old to get the most out of them (thank you ,Helen Jones). Very happy to support a British manufacturer.
5
Jacqui Thistlewood
Posted: 22 Nov 2016
Stylish , well made and cute! Really nice to get something made in the UK. His mum wants some too.